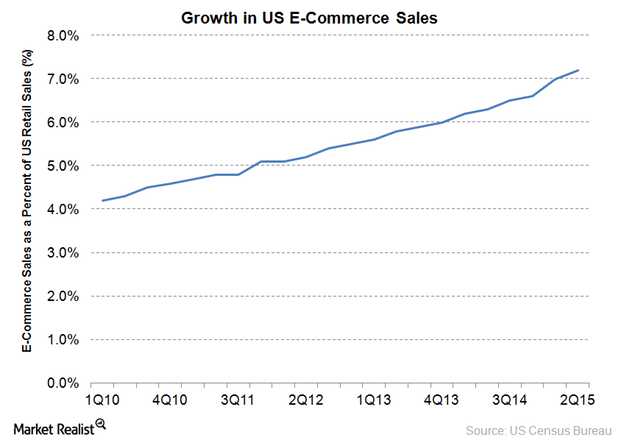 Why Ross Stores Isn't Keen on E-Commerce Growth
E-commerce growth
According to data released by the Census Bureau of the Department of Commerce on August 17, 2015, US retail e-commerce (electronic commerce) sales for the second quarter of 2015 increased by 14.1% to $83.9 billion on a year-over-year basis. E-commerce sales in 2Q15 accounted for 7.2% of total retail sales on a seasonally adjusted basis.
Traditional retailers and department stores are aggressively investing in e-commerce channels to boost their sales and to compete with online retailers such as Amazon (AMZN). However, Ross Stores (ROST) does not seem to be keen on expanding its online business. In fact, Ross Stores does not have an online store.
Article continues below advertisement
What makes Ross Stores stay away from e-commerce?
According to Michael O'Sullivan, the president and chief operating officer of Ross Stores, the company falls in the moderate off-price space. The average retail price of an item at Ross Stores is $10. There are not many items in the store that are priced above $25 or $30.
Placing such moderately priced merchandise on an e-commerce platform may not be a very profitable proposition for Ross Stores. With an average price of $10, even if the company is left with $4 or $5 after removing the cost of goods sold, it would still have to absorb shipping costs, processing costs, and costs associated with product returns.
Also, the nature of Ross Stores' off-price business is that the merchandise is bought in relatively small lot sizes. Recreating that kind of model in an online environment wherein there may not be much inventory of any particular item would be very difficult.
However, other off-price retailers such as Nordstrom's (JWN) Rack stores, which have a high average retail selling price, are benefiting from the expansion of their online businesses.
Nordstrom conducts its online business through Nordstrom.com, which comes under high-end full-line space, and Nordstromrack.com and HauteLook, which come under the off-price space.
In the first half of fiscal 2015, Nordstromrack.com and HauteLook sales increased 50% on a year-over-year basis. Other rivals of Ross Stores such as TJX Companies (TJX) and Burlington Stores (BURL) are also focused on growing their online businesses.
Ross Stores constitutes ~1.0% of the portfolio holdings of the SPDR S&P Retail ETF (XRT).