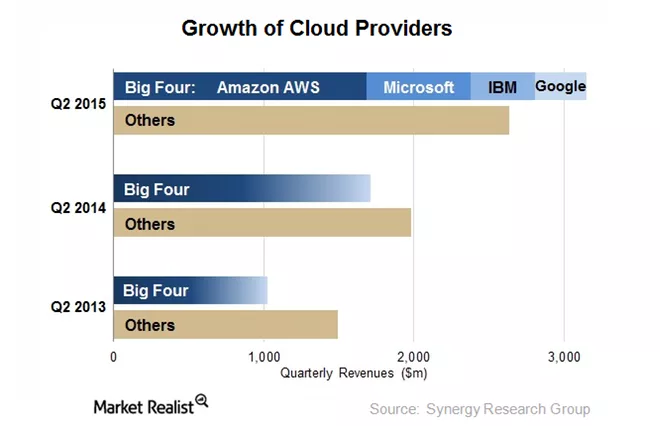 Macroeconomic Factors Affecting Microsoft's Performance
Competition in the technology sector
Microsoft (MSFT) faces competition from a number of companies in the tech (technology) sector due to low barriers of entry and continuous evolution of the tech space.
As seen in the above chart, Amazon (AMZN), IBM (IBM), and Google (GOOG) are Microsoft's major competitors in the cloud business segment.
Article continues below advertisement
Article continues below advertisement
Microsoft focuses on cloud business
In 1Q16, Microsoft's revenues increased 8% YoY (year-over-year) to $5.9 billion. Microsoft intends to compete and grow as a company in the mobile-first and cloud-first segments. Peer companies in this space are developing and deploying cloud-based services at a rapid pace to consumers and businesses.
Microsoft needs to set aside a significant amount of resources to develop cloud-based strategies. In order to be successful in the cloud business sector, Microsoft will need to focus on the following:
Ensuring compelling cloud-based user experiences, thereby generating traffic and increasing market share
Enhancing cloud platforms to third-party developers
Maintaining the utility, compatibility, and performance of cloud-based services on the growing range of computing devices such as smartphones, personal computers, tablets, gaming consoles, and others
In its earnings release, Microsoft stated, "It is uncertain whether our strategies will attract the users or generate the revenue required to succeed. If we are not effective in executing organizational and technical changes to increase efficiency and accelerate innovation, or if we fail to generate sufficient usage of our new products and services, we may not grow revenue in line with the infrastructure and development investments described above. This may negatively impact gross margins and operating income."
Microsoft makes up 11.0% of the iShares US Tech ETF (IYW) and 7.5% of the Powershares QQQ ETF (QQQ).