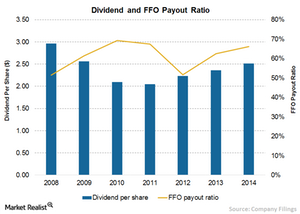 A Macerich Must-Know: Steady Dividends to Shareholders
By Peter Barnes

Updated
Why dividend matters
REITs (real estate investment trusts) like Macerich (MAC) must pay at least 90% of taxable income to investors as dividends. For REITs, dividends come primarily from the relatively stable and predictable stream of rental fees paid by the tenants who occupy their properties. Rental rates usually rise during periods of inflation as many lease rates are tied to inflation. As a result, REIT dividends are protected, to a large extent, from the long-term effects of rising prices.
Article continues below advertisement
Steady and consistent dividends
Macerich's (MAC) FFO (funds from operations) increased to $3.54 per share in 2014—a marginal increase from its $3.53 per-share level the previous year. Bolstered by this higher FFO, the company then increased its dividend by 6.4% to a total of $2.51 per common share in fiscal 2014 compared to $2.36 per share in 2013.
The company paid a higher dividend of $2.96 per share in 2008, which declined to $2.05 per share in 2011. But with the increase in its 1H15 dividend to $1.30 per share, Macerich is now on course to pay at least $2.60 per share over the entire fiscal 2015.
FFO payout ratio
A company's FFO payout ratio is its dividend declared per common share divided by its diluted FFO per common share for a given period. The FFO payout ratio provides investors with relevant and useful information in that it measures the portion of FFO being declared as dividends to shareholders. Thus, we should note that Macerich's FFO payout ratio, which was 69.3% in 2010, dropped to 51.7% in 2012. Buoyed by the higher dividend, its FFO payout ratio improved to 66.2% in 2014.
Peer group
Comparisons show that Macerich (MAC) offered the highest FFO payout ratio in its peer group, followed by Simon Property Group (SPG) with 57.9%, and General Growth Properties (GGP) with 42.3%. CBL & Associates Properties (CBL) offered the lowest FFO payout ratio of the peer group, at 31.2%. Macerich (MAC) makes up 1.84% of the total holdings of the SPDR DJ Wilshire REIT ETF (RWR).
Continue to the next part of this series, wherein we'll discuss Macerich's debt position.