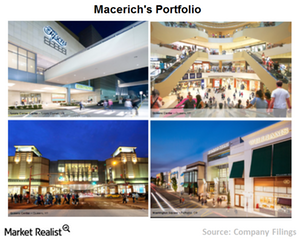 Investing in Macerich: a Must-Know Company Overview
Brief history
Macerich (MAC) is a self-managed REIT (real estate investment trust) headquartered in Santa Monica, California. The company was founded in New York in 1964 by Mace Siegel and Richard Cohen as MaceRich Real Estate Company. In 1994, the company went public as "The Macerich Company," which was rebranded to "Macerich" in 2006. It is the third-largest owner and operator of shopping centers in the United States. The company is a part of an S&P 500 index and employs about 1,117 people as of the end of fiscal 2014.
Article continues below advertisement
Business interest
The company is involved in the acquisition, ownership, development, redevelopment, management, and leasing of regional and community, or "power," shopping centers located throughout the United States. Macerich's portfolio consists of prime properties in some of the most desirable, densely populated and highest barrier-to-entry US markets.
Competitors
Macerich is the third-largest retail REIT company in the US, after Simon Property Group (SPG) and General Growth Properties (GGP), with a current market capitalization of $12.7 billion. The company competes with numerous other malls, outlet centers, community and lifestyle centers, and shopping centers in the United States.
In the US, there are seven other publicly traded mall companies, as well as a number of publicly traded shopping center companies and several large private mall companies, which could compete against Macerich for an anchor or tenant. Macerich also competes with internet retailing sites that provide retailers with distribution options beyond existing brick-and-mortar retail properties.
Article continues below advertisement
Apart from Simon Property Group and General Growth Properties, other major competitors of Macerich in the regional malls REIT space include Tennessee-based CBL & Associates Properties (CBL) and Michigan-based Taubman Centers (TCO). Macerich (MAC) makes up 0.42% of the total holdings of the iShares Cohen & Steers REIT ETF (ICF).
Series content
Investing in Macerich: a Must-Know Company Overview

A Breakdown of Macerich's Retail Mall Business

An Informative Glance at Macerich's Top Tenants
Macerich's Development and Redevelopment Projects
How Macerich Plans to Increase Shareholder Returns
Why Macerich Rejected Simon Property's Acquisition Offer
Why Macerich's Occupancy Rate Is Steadily Improving
Why Long-Term Anchor Tenant Leases Are Beneficial to Macerich
Assessing Macerich's Robust Revenue Growth in Fiscal 2014
A Must-See Breakdown of Macerich's Cost Structure
Macerich's High Net Operating Income in 2014
A Macerich Must-Know: Steady Dividends to Shareholders
A Macerich Must-Know: Lowest Leverage in Its Peer Group
Macerich's Higher Price-to-FFO Multiple Compared to Peers
Macerich's Highest EV-to-EBITDA Multiple Compared to Peers
How to Invest in Macerich through ETFs
Continue to the next part of this series for a breakdown of Macerich's retail mall business.