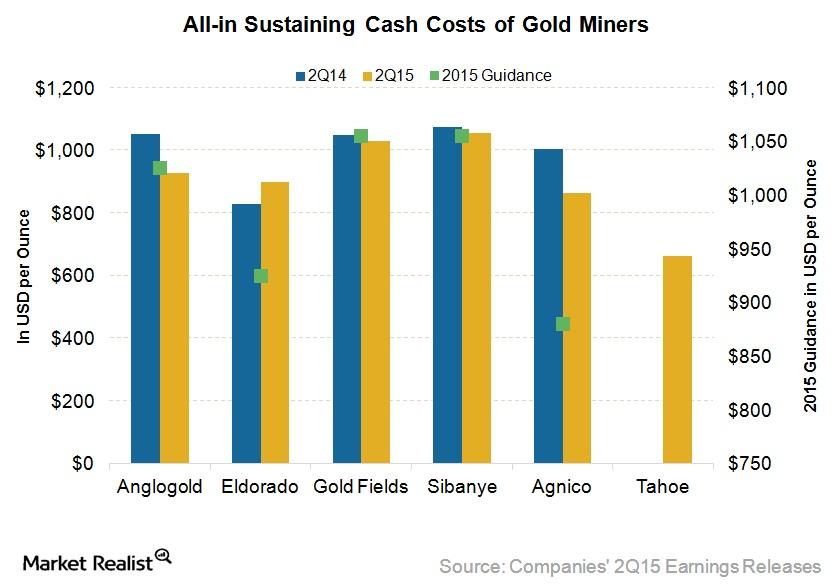 Which Intermediate Gold Miners Have Cost Advantages in 2H15?
All-in sustaining costs for gold miners
A company's AISC (all-in sustaining costs) is a comprehensive and important cost metric. It includes expenses such as cash costs, exploration expenses, general and administrative expenses, and sustained capital expenditure for mine development. A lower AISC is better for gold miners.
The average AISC for Agnico Eagle Mines (AEM), Anglogold Ashanti (AU), Gold Fields (GFI), Tahoe Resources (TAHO), Sibanye Gold (SBGL), and Eldorado Gold Corporation (EGO) in 2Q15 was $907 per ounce—a 9% improvement from $1,002 per ounce in 2Q14. Tahoe Resources' AISC was lowest among peers at $664 per ounce, while Sibanye's AISC was highest at $1,054 per ounce in 2Q15.
Article continues below advertisement
AISC comparisons
Agnico's AISC improved by 14% in 2Q15 from $1,003 per ounce in 2Q14 to $864 per ounce in 2Q15, largely driven by higher production and lower cash cost and general and admin expenses.
Anglogold reported AISC of $928 per ounce in 2Q15, a 12% improvement from $1,052 per ounce in 2Q14, led by the positive impact of various cost-cutting measures, a weaker currency, and favorable oil prices.
Gold Fields reported a marginal improvement of 2% in AISC from $1,050 per ounce in 2Q14 to $1,029 per ounce in 2Q15, primarily due to lower operating costs, partially offset by lower gold sold and higher capex.
Eldorado's AISC increased by 9% in 2Q15, reporting $900 per ounce—up from $829 per ounce in 2Q14—due to increased cash costs across all its mines except the Efemcukuru mine. The company expects its AISC to be $925 per ounce for 2015, slightly higher than the historical range but lower than its previous guidance of $960–$995 per ounce in 2015.
Tahoe Resources reported AISC of $664 per ounce in 2Q15 for the first time after its acquisition of the Rio Alto gold mine. Sibanye Gold's AISC improved by 2% from $1,074 per ounce in 2Q14 to $1,054 per ounce in 2Q15.
AISC 2015 guidance
Agnico, Anglogold, Gold Fields, and Eldorado provided fiscal 2015 AISC guidances of $880 (mid-point), $1,025 (mid-point), $1,055, and $925 per ounce, respectively. Agnico has the lowest guidance of $880 per ounce, while Gold Fields has the highest guidance of $1,055 per ounce for 2015. Agnico's AISC guidance improved on a better throughput rate and the positive impact of cost reduction measures.
Investors can invest in the VanEck Vectors Gold Miners Index (GDX) to get exposure to publicly traded gold mining companies. The six companies mentioned above account for 21.3% of the fund's holdings.
Continue to the next part of this series for a discussion of the role of gold reserves in 2015.