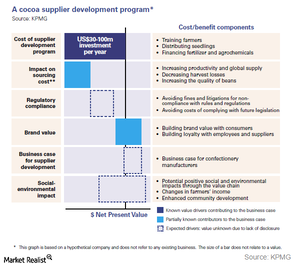 Hershey's Steps to Improve Suppliers Productivity and Conscious Sourcing
Raw materials
The Hershey Company (HSY) is a leader in the US confectionery industry (XLP) (IYK). Cocoa products represent the most significant raw materials the company relies on for its chocolate products. These cocoa products include:
cocoa liquor

cocoa butter

cocoa powder processed from cocoa beans
Cocoa beans are grown in the Far Eastern, West African, and South American equatorial regions. West Africa accounts for ~72% of the world's cocoa bean supply, and major confectionery players are important customers for cocoa beans suppliers.
Article continues below advertisement
Development of cocoa farms
Confectionery companies and governments alike are investing in the development of cocoa farms. Analysts expect that companies like Mars, Ferrero, and Hershey will invest $800 million in the improvement of productivity on cocoa farms, and Mondelez International (MDLZ) reportedly plans to invest $400 million on its own to help farmers over the next decade—initiatives that should help cocoa sourcing companies reduce their input costs.
Hershey, for its part, purchases cocoa products directly from third-party suppliers in the US. The company's approach moving forward will be to continue looking for a range of suppliers.
Conscious sourcing
To support environmentally and socially conscious sourcing, Hershey has set a goal of sourcing 100% cocoa from certified cocoa farms. In fiscal 2014, it sourced 30% certified cocoa. Mars, Ferrero, and Natra have also committed to source 100% certified cocoa by 2020. Mars, Hershey, and Mondelez have also committed to sourcing 100% palm oil.
Article continues below advertisement
Increased input costs
In 2014, cocoa prices increased by 9% due to increased demands, climate change, and crop disease. We should keep in mind that Hershey also uses other raw materials like sugar, Class II fluid dairy milk, peanuts, and almonds. Hershey purchases most of these raw materials from suppliers in the US. The US price of sugar is subject to the Food, Conservation, and Energy Act of 2008. But due to import quotas and duties imposed by the legislation, sugar prices in the US have become substantially higher than prices on the world sugar market.
Hershey utilizes forward purchasing and futures contracts to hedge the fluctuations in sugar prices. But as the above graph shows, sugar prices in the US were 50% to 100% higher than the global markets in 2014.
In 2014, the largest chocolate manufacturing company, Barry Callebaut (BYCBY)—which produces chocolates for Mondelez, Hershey, Unilever (UN), and other firms—also increased cocoa prices by 25%. Consequently, in July 2014, Hershey announced that its weighted average price would increase by 8% in a response to these increases in input costs. Mondelez also raised its prices in 2Q14 and 3Q14 by 3.6% and 5.8%, respectively, due to sharp increases in input costs.
Continue to the next part of this series for a discussion of the role that product innovation plays in Hershey's business model.