A Glance at Hershey's Leadership in the US Confectionery Industry
Hershey is a leading player in the confectionery industry, which grew globally at a CAGR of 4.9% from 2009–2014, reaching $198.4 billion in 2014.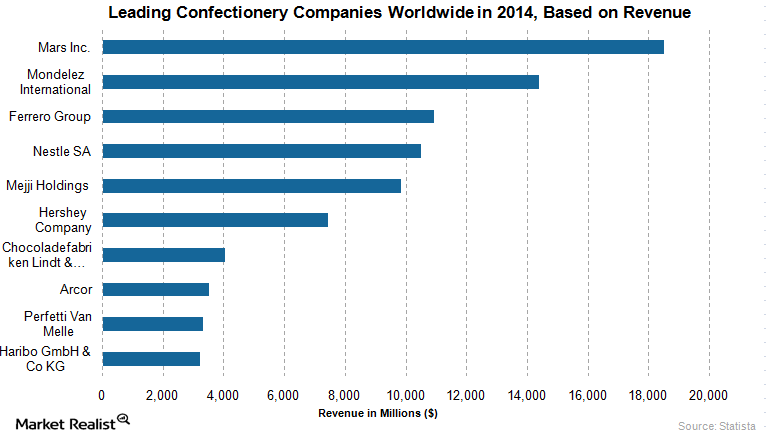 Industry analysis
The Hershey Company (HSY) is a leading player in the confectionery industry (XLP), which globally, according to Statista, grew at a CAGR (compound annual growth rate) of 4.9% from 2009–2014, reaching $198.4 billion in 2014. The market is expected to continue to grow at a CAGR of 2.7% between 2015 and 2019. In the US, chocolate confectionery sales grew 24% between 2009 and 2014, reaching $21 billion in 2014.
Article continues below advertisement
Article continues below advertisement
Market share
According to Statista, Hershey and Mars are the largest players in the US confectionery market, with market shares of 31.2% and 29.2%, respectively. In Canada, Nestle (NSRGY) was the leader with 18.6% share, followed by Hershey, Mondelez International (MDLZ), and Mars.
In the US, Hershey is the leading chocolate company with a 44.4% share in the chocolate market, followed by Mars, which has a 29.5% share.
Hershey and Mars lead
Hershey and Mars together held 60.4% of US confectionery market (IYK). According to a survey by Harris Interactive, Hershey and Mars have seven brands each among the top 20 trusted brands in the US in the confectionery market.
According to IRI, a Chicago market research firm, Reese's Peanut Butter Cups and Hershey's Milk Chocolate Bar are the second and fourth best-selling candies in the US, in the under 3.5-ounce category. Kit Kat is the fifth-favorite candy in the US while Mars's M&Ms and Snickers hold the first- and third-place positions.
Increased competition and more automation
The confectionery industry is intensely competitive. The industry is consolidating rapidly as, over the past 40 years, there was a storm of M&A (mergers and acquisitions) activity in the confectionery industry. In past 15 years, Hershey has completed 12 acquisitions.
The upshot has been that very few core players are remaining in the market with Mars, Mondelez, Hershey, and Nestle. These big players have started to make the chocolate world highly automated.
Hershey is a part of growth fund the iShares Russell 1000 Growth ETF (IWF). HSY holds 0.14% of the IWF. Other packaged food companies like General Mills (GIS) and Kraft Heinz (KHC) are also part of IWF.
Continue to the next part of this series for a closer look at Hershey's segments and product offerings.