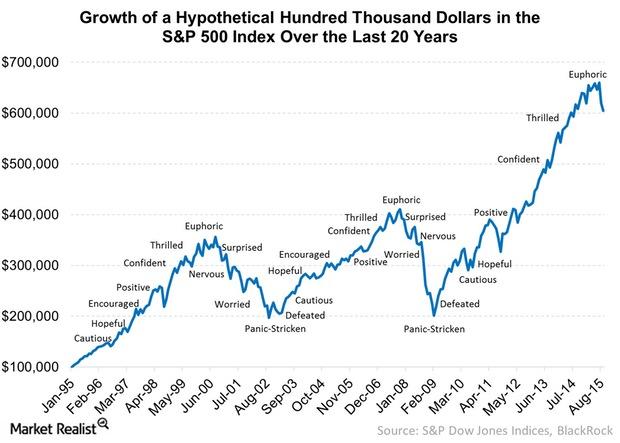 Don't Panic when Financial News Headlines Jump Out at You
Heather Pelant offers four ways successful investors stay calm during volatile markets.
I've written about how my aunt calls me when the markets worry her. Needless to say, she's been calling a lot.
Rising interest rates. Sinking oil prices. A strong dollar and weak earnings. Greece, China and Puerto Rico. The news headlines make hay of these swings, and investor emotions can ride along with the dramatic stories. The stock market will spike one day, you feel optimistic and invest, then the market drops back down the next day.
Earlier this year, we talked about how the markets would seem more volatile than in recent past. Well, they have delivered on that forecast. After years of relative calmness and steadily rising returns, markets have been jumpier lately.
Article continues below advertisement
Market Realist – Don't panic when financial news headlines jump out at you.
The graph above shows the hypothetical growth of $100,000 in the S&P 500 Index (RSP)(SPHQ) over the last 20 years, along with the various market moods.
While the markets have seen a lot of ups and downs in that period, the index has returned 9.1% annually on a compounded basis. However, many retail investors might have been tempted to enter the markets at the peak and exit them during troughs, thus making massive losses. The key is to stay invested through the volatility (VXX) (VIXY) for the long term.
In a slowing global growth scenario, it's unlikely that we'll see the kind of returns we've seen in the past. However, if you're ready to remain invested for the long term, you could see better returns in equities (OEF) compared to other asset classes.
But you need to keep in mind a few strategies that will help improve your long-term returns. We'll take a look at these in the rest of this series.