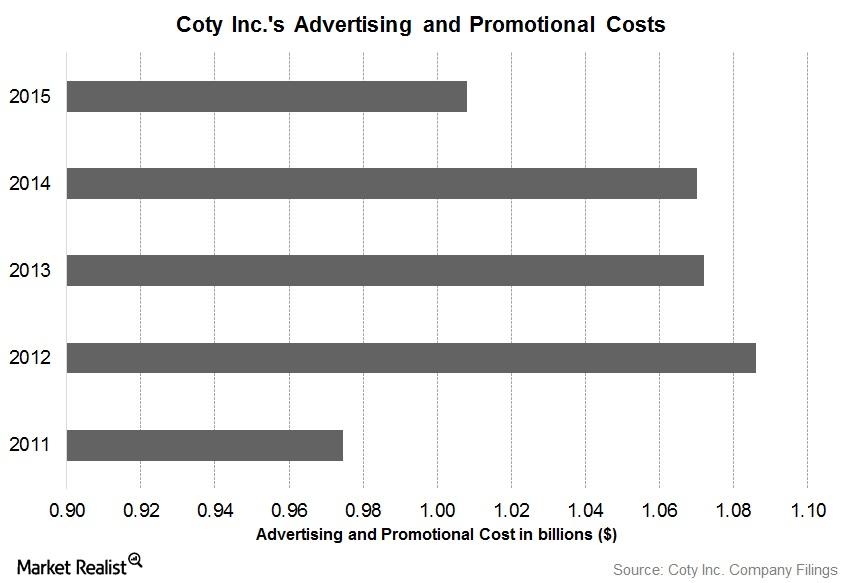 Coty's Marketing Strategies to Reach New Consumers
Marketing and advertising costs
Coty, Inc. (COTY) deploys a marketing and sales force team in most of its significant markets. The company creates a distinct image and personality for each brand. The company's total marketing and advertising expenses came in at $1.5 billion in fiscal 2015, or ~33.5% of its net sales.
Article continues below advertisement
Leveraging celebrity endorsements
Coty Inc. and peers Estée Lauder (EL), Avon (AVP), and L'Oréal (LRLCY) advertise and market its products through mediums that include television, print, outdoor ads, in-store retail (XRT) displays, and online on brand sites and social networks. Coty also leverages its relationship with celebrities to endorse certain products.
For example, a television spot for Marc Jacobs Daisy Dream was directed by longtime Marc Jacobs muse Sofia Coppola. Recent campaigns also included Kate Moss and Georgia May Jagger to promote Rimmel lipsticks and other color cosmetics. Among others, Jasmine Tookes and Tobias Sorensen endorsed Calvin Klein Eternity Now.
Designer, celebrity, and lifestyle brands
Coty's products are linked to:
recognized designers and design houses like Balenciaga, Bottega Veneta, and Chloé
celebrities like Beyoncé Knowles and Enrique Iglesias
lifestyle brands like Davidoff and Vespa
Each of these brands is promoted with consistent logos and packaging in order to enhance the image and uniqueness of the brands.
Article continues below advertisement
In-store marketing
The company also engages in cooperative advertising programs with retailers. In-store marketing activities help in attracting consumers to Coty's counters, displays, and walls. In addition, the company also engages in gift-with-purchase programs designed to stimulate product trials.
Multipronged strategy
Coty plans to expand with a multipronged strategy that includes digital marketing efforts through websites, brand sites, social networking campaigns and blogs, and e-commerce.
Currently, Coty's 39 brands have marketing sites, 34 have social networking activities, and 12 are sold on branded e-commerce sites.