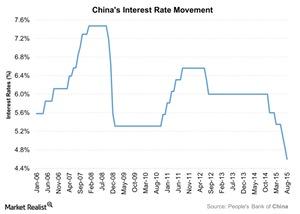 How Are China's Interest Rates Moving?
By Lynn Noah

Oct. 13 2015, Published 8:43 a.m. ET
Central Bank and interest rates
As we saw in the last part, the credit market is huge and volatile. As a result, the Central Bank becomes the key player in the credit market. It controls the amount of money and credit in the economy. It does this by influencing interest rates and printing new money.
China's Central Bank slashed its interest rate again to increase the amount of money flow in the economy.
Article continues below advertisement
China's interest rates and the yuan devaluation
Usually, the Chinese government doesn't do things by accident. The government's actions are planned. Weakening the Chinese currency is part of its five-year plan.
China's Central Bank, the PBoC (People's Bank of China), devalued its currency in August. This move was intended to boost exports by making Chinese goods cheaper in the foreign market. However, on August 24, China's stock market crashed. All of the major global stock markets fell.
These events drained capital from the country. So, in order to keep the yuan from falling more and to prevent capital flight, the PBoC influenced the credit market by cutting its benchmark lending interest rate by 25 basis points to 4.6% on August 25. This was its fifth rate cut since November. It also cut its required reserve ratio by 50 basis point to 18%.
By cutting interest rates, the PBoC intends to reduce debt repayments. It wants borrowing and spending to increase. As we stated earlier, spending drives the economy. One person's spending is other person's income. This cycle goes on continuously.
Impact on mutual funds
China-focused mutual funds like the Clough China Fund – Class A (CHNAX), the Fidelity China Region Fund Class C (FHKCX), the John Hancock Greater China Opportunities Fund Class A (JCOAX), and the Matthews China Investor Class (MCHFX) are invested in companies' stocks like Tencent Holdings (TCEHY), PetroChina (PTR), China Mobile (CHL), and Taiwan Semiconductor Mfg Co (TSM). These companies have a large export market. They would benefit from the cheaper yuan because their export revenue would increase.
In the next parts, we'll look at the leverage and deleverage situation in China.