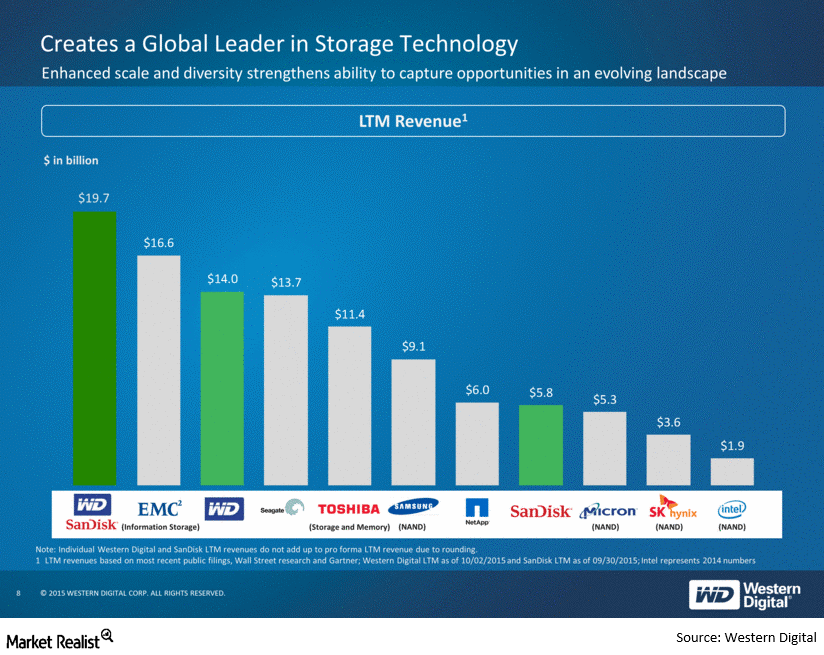 Can the Western Digital-SanDisk Merger Get Antitrust Approval?
By Brent Nyitray, CFA, MBA

Nov. 20 2020, Updated 4:24 p.m. ET
Regulatory approvals determine when the deal will close
With almost all mergers, the rate of return is driven by the time it takes to finalize the transaction. In the case of the SanDisk-Western Digital merger, several regulatory approvals are required to close the deal.
Article continues below advertisement
SEC approval
Western Digital (WDC) and SanDisk (SNDK) will have to get the joint proxy statement approved by the SEC (Securities and Exchange Commission). If the SEC makes any comments, the companies will need to fix the language and refile. Once the SEC approves the proxy statement, a vote must be scheduled at least 30 days from the mailing date.
Antitrust requirement
To get over the first regulatory hurdle, Western Digital will need to file under the Hart-Scott-Rodino Antitrust Improvements Act (HSR). While the companies describe their offering as "complementary," the late-2016 timing guidance indicates they believe there is at least a decent chance of an extended antitrust review. The merger agreement mentions the HSR requirement and other governmental approvals in the Company Disclosure Schedule, which is not public. The deal will almost certainly have a review in the European Union and probably China, as well.
Article continues below advertisement
Arbitrageurs typically first check the respective companies' Form 10-K filings to see if they are named competitors. Both SanDisk and Western Digital name each other as competitors in their respective 10-Ks. SanDisk's discussion is more granular and cites Western Digital as a competitor in solid-state drives, enterprise storage, and digital media players.
While the attached graphic shows that the Western Digital-SanDisk merger brings together the third and eighth players, respectively, in storage (which usually isn't problematic from an antitrust standpoint), regulators can get very granular when they define submarkets. Given the timing guidance of the third quarter of 2016, the companies are signaling they anticipate antitrust issues.
Best efforts language
The companies will use reasonable best efforts to get regulatory approval and contest any findings by the antitrust authorities. However, they are not required to divest anything that contributed more than $250 million in revenue in 2013. Note there is a reverse termination fee if the deal cannot get antitrust approval. WDC will weigh the cost of the remedies demanded by the regulators versus the cost of paying the reverse termination fee.