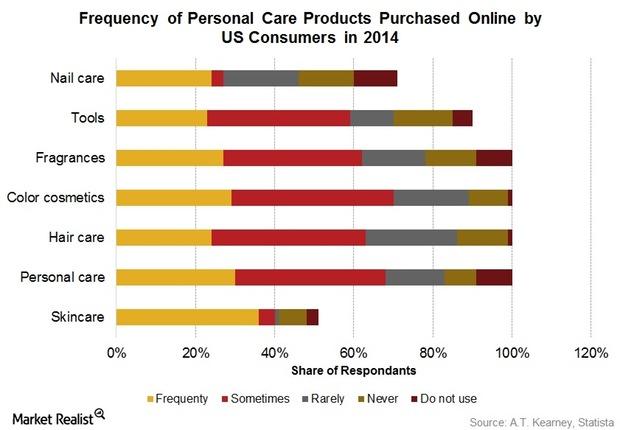 Assessing Coty's Strengths and Opportunities
Strong geographic presence
Coty Inc.'s (COTY) large geographic footprint diversifies its revenue stream, which is one of the company's chief strengths. On the other hand, the US dollar appreciating versus most currencies in recent quarters has affected Coty's top line. Coty operates in over 130 countries through key distribution channels in both the prestige and mass markets channels.
Article continues below advertisement
Strong R&D tilt and brand portfolio
Coty has a strong research and development (or R&D) team, which helps in new product development and innovation by combining cutting-edge research and technology. R&D expenditures totaled 1.1% of net revenues in fiscal 2015.
Coty has a strong brand portfolio that is well-positioned to participate in the revival of consumer spending. According to IPSOS and Synovate, cited in Statista, Adidas was the most consumed fragrance brand for men in Russia in 2013, with a 14.3% share of respondents. Avon's (AVP) and Gillette's (PG) share of respondents came in at 11.9% and 10.9%, respectively, in 2013.
Trends for the beauty and cosmetics industry
An increase in disposable incomes and the influence of Western culture led increasing demand for beauty products in emerging markets. However, the improvements in the economy could lead some consumers to spend more on beauty services and, therefore, constrain demand for certain beauty products such as hair colorants.
Coty, like peers Estée Lauder (EL) and L'Oréal (LRLCY), sells a broad range of products through travel retail channels such as airlines and cruise lines.
Article continues below advertisement
Growth in online shopping
Apart from retail (XRT) distribution, online shopping is gaining popularity. According to an A.T. Kearney report cited in Statista, 27% of surveyed respondents in the US purchased fragrances online in 2014. For color cosmetics, 29% of the survey's respondents reported buying these products on the Internet.
Strategic acquisition opportunities
Coty believes in the identification of strategic partnership opportunities in order to make improvements in productivity. Its recent acquisition of Procter & Gamble's (PG) 43 beauty brands gives Coty a new category in the beauty industry through the addition of P&G's hair color business, including Wella. To learn more about this deal, please read Coty Buys 43 Procter & Gamble Brands: What Investors Should Know.