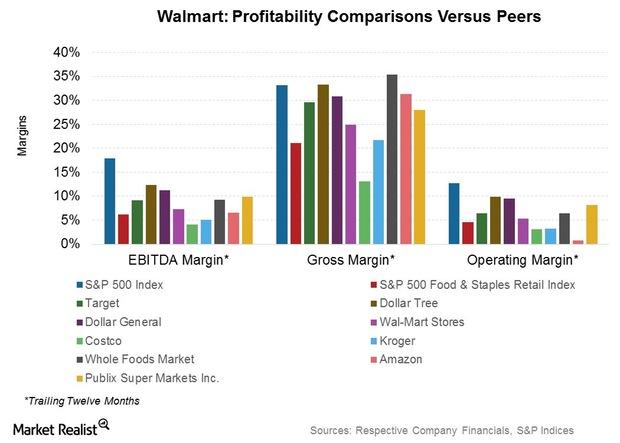 Walmart's Strategic Business Priorities and Their Impact
Walmart's strategy to grow its top line
At its 22nd Annual Meeting for the Investment Community, Walmart (WMT) dialed down its earnings outlook on higher near-term investments in pricing, wages, and technology. Walmart insisted that the additional investments are essential if the retailer is to grow its top line while providing a superior customer experience and keeping pace with changing shopper preferences. The company outlined the following four strategic priorities:
building its omni-channel capabilities while gaining scale across product categories and countries
growing its top line at a faster pace than the overall market
focusing on core assets and capital discipline
generating stronger shareholder returns
Article continues below advertisement
Implications
Walmart's wage investments are obviously a long-term decision designed to improve the lives of workers and customer satisfaction scores. As the largest private sector employer in the United States, these hikes may also be a precursor to a hike in the minimum wage.
To learn more on their impact, read our article How Walmart's Pay Hikes Affect The Retail Sector.
Peers Kroger (KR) and Costco (COST) already pay higher wages than Walmart. A high level of customer (FXG) (XRT) (VDC) service is also a key element of their store strategies.
The economics of omni-channel
Enhancing omni-channel capabilities is, to a large extent, a must for retailers. It's a key sales and traffic driver. Like Walmart, retailers such as Target (TGT) and The Home Depot (HD) are looking at future sales growth as an integration between brick-and-mortar and online.
But it's also undeniable that some companies tend to make more money at web sales than others by offering premium and customization options, differentiating them from the competition. It's doubtful whether Walmart and Target can get the same level of profitability by selling largely undifferentiated products, product mix notwithstanding.
Enhancing the availability of private and exclusive brands may be one way to get around this. But competitive pressures may constrain pricing and margins. Amazon (AMZN), the world's largest e-retailer, has more than tripled its revenue over the past five years, while its operating profitability has steadily declined.
Walmart and Costco together constitute 1.4% of the portfolio holdings in the iShares S&P 100 ETF (OEF).
In its updated guidance, Walmart reduced its capital expenditure plan for digital and tech investments. We'll look at this in the next article.