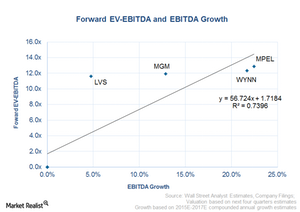 The Valuation of Macao Casino Stocks
EV/EBITDA multiple
To value capital-intensive companies like casinos, we use the EV/EBITDA multiple. It is EV (enterprise value) divided by EBITDA (earnings before interest, tax, depreciation, and amortization). The EV/EBITDA multiple helps remove some drawbacks of the PE (price-to-earnings) multiple. A major one is that the EV/EBITDA multiple takes into account both the shareholder and debt perspective, unlike the PE ratio.
Article continues below advertisement
Peer comparison
The above chart compares the EV/EBITDA and EBITDA growth of the four major casino players in Macao. We are using the forward EV/EBITDA multiple, which uses the next 12-month EBITDA estimate.
The forward EV/EBITDA multiple for Las Vegas Sands (LVS) is the lowest among its peers and stands at 11.63. It also has one of the lowest EBITDA growth estimates at 4.8%. MGM Resorts (MGM) is close by at 11.94 for its forward EV/EBITDA, while its EBITDA is expected to grow at 12.9%. Wynn Resorts (WYNN) is valued at 12.34, while its EBITDA is expected to grow at 21.7%.
Melco Crown Entertainment (MPEL) has the highest expected EBITDA growth rate of 22.5% and naturally has the highest forward EV/EBITDA multiple of 12.87x. Though MPEL and WYNN are expected to grow at much higher rates than LVS and MGM, this is not reflected in its multiples.
Macao's shift from VIP gaming to the mass gaming market and non-gaming revenue (like hotels, retail, and entertainment) is expected to benefit Macao in the long run. A diversified revenue stream is expected to make Macao's economy more sustainable.
In the near term, however, the end to this pain is nowhere in sight. The Chinese government's severe crackdown on corruption will keep wealthy individuals away from the gaming market for quite some time.
Investors who want to avoid the risk of investing in a single casino company may invest in ETFs that invest in casino stocks. These include the Markets Vector Gaming (BJK) and the Consumer Discretionary Select Sector SPDR Fund (XLY).
Visit Market Realist's Casinos and Gaming page to learn more about the industry, its indicators, and current trends.