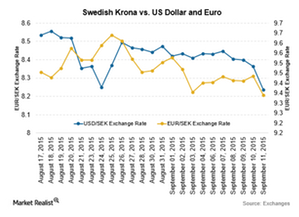 Swedish Krona Gains on Positive Growth Figures
Swedish krona extends winning streak
The Swedish krona gained by more than 1.5% against the US dollar and 1.0% against the euro on September 11, 2015, as the economy grew at a faster rate than expected in 2Q15. This sentiment was buoyed by a decline in the unemployment rate, which increased long positions in the krona.
The euro–krona pair (EUR) (SEK) has been trading near multiweek lows near the 9.33 handle as the Swedish currency has been recording sufficient gains versus other currency peers. Looking back at the two weeks after the Chinese devaluation ending August 21, 2015, the krona was the best performer among the major currency pairs. You can read more about this in G10 Currencies Gain as US Dollar Index Sinks.
Article continues below advertisement
Positive GDP growth reinforces highs in the krona
Gross domestic product (or GDP) for the second quarter of 2015 increased by 3.3% on an annual basis against expectations of a 3.0% expansion. From a quarter-over-quarter perspective, the expansion was 1.1% against a forecast of 1.0%.
This confidence was further boosted by decreasing unemployment numbers in August as the jobless rate decreased to 6.4% versus the anticipation of an increase to 6.8%. The releases should play a vital role in determining further intervention by the Swedish central bank, Sveriges Riksbank.
Impact on the market
The iShares MSCI Sweden ETF (EWD), the Swedish fund that trades on the New York Stock Exchange, was seen taking a positive bias from positive growth and unemployment numbers on September 11, 2015. It ended up by 1.30%. On the other hand, the iShares Europe ETF (IEV) fell by 0.10%.
The Swedish ADR (American depositary receipt) Telefonaktiebolaget L M Ericsson B (ERIC) also posted gains, ending the day 0.61% higher. Other European ADRs were on a negative bias as the gains did not resonate in their Swedish counterparts such as Deutsche Bank (DB) and Alcatel-Lucent SA (ALU), which fell by -0.07% and -0.29%, respectively.