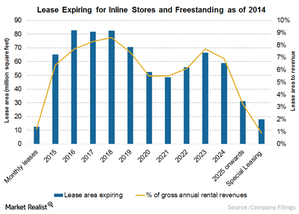 Simon Property Group's Lease Length Exposure
By Peter Barnes

Sep. 21 2015, Updated 11:06 a.m. ET
Lease expiry explained
For real estate companies, tenant lease expiry is a primary cause of rental erosion, as in an over-rented market, new lease terms are generally fixed in favor of the tenants, and the costs of lease renewals or new lease agreements make up a large part of the freeholder irrecoverable expenditure, which drives a company's NOI (net operating income) downward, causing the drop in cash flows. This drop, in turn, has a direct impact on yields and the total returns of properties.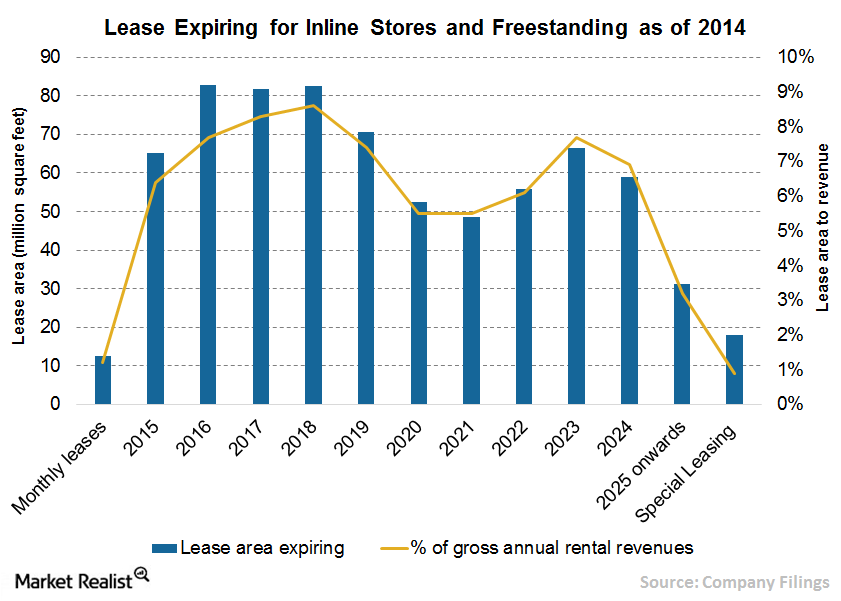 Article continues below advertisement
Simon Property has long-term leases
For Simon Property Group (SPG), only 1.2% of the gross annual rental revenues of inline and freestanding stores comes from month-to-month leases, while 6.5% of leases are expiring in the current fiscal year.
A substantial portion of the gross annual rental revenues for Simon Property are long-term in nature, which ensures a steady stream of rental income for the company. Similarly, in the case of anchor tenants, only 0.3% of the company's gross annual rental revenues are expiring in the next three years, while the majority of its leases are long-term in nature, with only 4% expiring after 2025.
The chart below shows the lease area expiring for a particular year and its contribution to total revenue. For example, in 2016, around 82.7 million square feet of lease area rented by inline and freestanding stores will expire. This lease area contributed 7.7% to the total revenue of the company in 2014.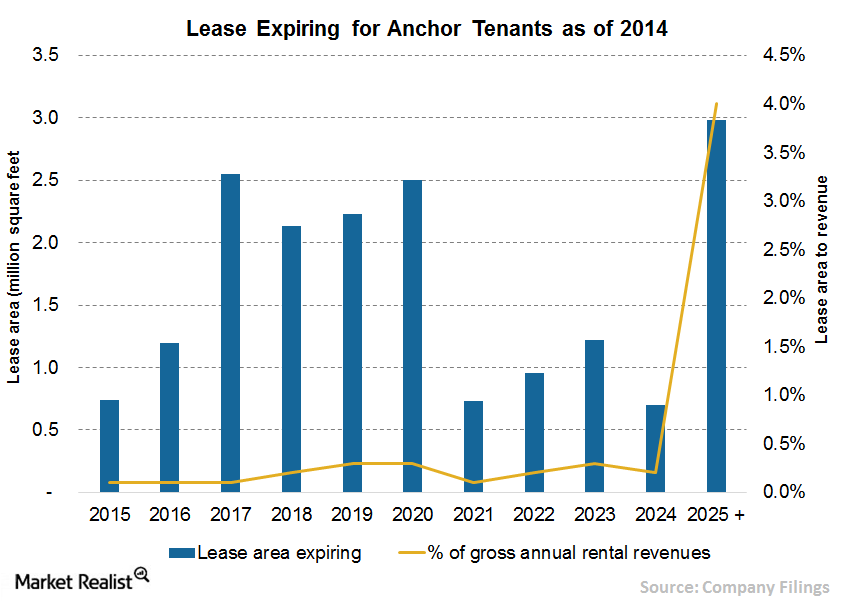 Current leasing activities
During 2014, Simon Property signed 773 new leases and 1,581 renewal leases (excluding mall anchors and majors, new development, redevelopment, expansion, downsizing, and relocation), all with fixed minimum rents, across US malls and premium outlets portfolio. This made up approximately 7.4 million square feet, of which 5.5 million square feet were related to consolidated properties.
During 2013, Simon signed 950 new leases and 1,391 renewal leases with a fixed minimum rent, comprising approximately 10.3 million square feet of. The average annual initial base minimum rent for new leases was $58.57 per square foot in 2014 and $49.85 per square foot in 2013 with an average tenant allowance on new leases of $38.83 per square foot and $34.69 per square foot, respectively.
As of fiscal 2014, approximately 97.1% of the owned GLA in malls and premium outlets was leased, and approximately 98.4% of the owned GLA for The Mills was leased.
Investors looking for exposure in commercial real estate can invest in REIT ETFs. Simon Property Group and Public Storage (PSA) make up 8.16% and 4.06% of the Vanguard REIT ETF (VNQ), respectively. Equity Residential (EQR) comprised 6.70% of the iShares Cohen & Steers REIT ETF (ICF).
In the next part of this series, we'll discuss Simon Property's revenue growth.