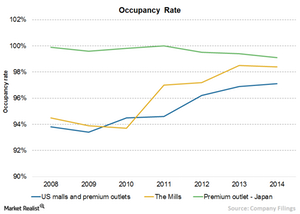 Simon Property Group's Key Operating Metrics
By Peter Barnes

Sep. 21 2015, Updated 8:06 a.m. ET
Occupancy rate
A real estate company's occupancy rate is the percentage of GLA (gross leasable area) that is leased to tenants during the fiscal year. Simon Property Group (SPG) includes all company-owned space (except for mall anchors, mall majors, mall freestanding and mall outlots) in the calculation. The higher the occupancy, the higher the rental income for the company. Simon Property knows this rule very well and has always been at a very comfortable position in acquiring tenants.
Article continues below advertisement
Improvement in occupancy rate
The occupancy rate for Simon Property's US malls and premium outlets, which was 93.4% in 2009, increased consistently since, reaching 97.1% in 2014. The occupancy rate for The Mills outlet malls improved from 93.9% in 2009 to 98.4% in 2014. Though the occupancy rate for The Mills increased in 2014, it was a bit lower compared to 2013, when it peaked to 98.5%.
The improvement in economic conditions led to an overall improvement in Simon Property's occupancy rate.
On the other hand, international premium outlets, especially in Japan, have witnessed more than 99% occupancy rate over the past few years. The occupancy rate in Japan was 99.1% in 2014, compared to 99.4% in 2013.
Total sales per square foot
Total sales include total reported retail tenant sales on a trailing 12-month basis at owned GLA (for mall stores with less than 10,000 square feet) in malls, The Mills outlets, and all reporting tenants at the premium outlets. Retail sales at owned GLAs affect revenue and profitability levels, because sales determine the amount of minimum rent that can be charged, the percentage of rent realized, and recoverable expenses, such as common area maintenance and real estate taxes that tenants can afford to pay.
Total sales per square foot for US malls and premium outlets, which was $452 in 2009, grew consecutively since then, reaching $619 in 2014. Similarly, for The Mills outlets, the total sales per square foot rose from $369 in 2009 to $541 in 2014.
Investors looking for exposure in commercial real estate can invest in REIT ETFs. Simon Property Group and Public Storage (PSA) make up 8.16% and 4.06% of the Vanguard REIT ETF (VNQ), respectively. Equity Residential (EQR) comprised 6.70% of the iShares Cohen & Steers REIT ETF (ICF).
We'll discuss lease duration of tenants and how it affects Simon Property's finances in the next part of this series.