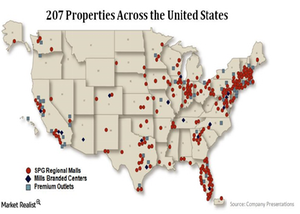 Simon Property Group's Key Business Segments
Business portfolios
Simon Property Group (SPG) owns, develops, and manages retail real estate properties around the US and internationally. The company has six main retail real estate portfolios, namely:
regional malls and premium outlet centers (including the Mills)
community and lifestyle centers
other retail properties and international properties
Simon Property is the only REIT (real estate investment trust) in the S&P 100 Index and employs about 5,500 worldwide.
Article continues below advertisement
Portfolio concentration
As of fiscal 2014, Simon Property owned or held an interest in 207 income-producing properties in the US. These properties consisted of:
109 malls
68 premium outlets
13 mills
three community centers
14 other retail properties in 37 states and Puerto Rico
The company has four outlets under development and has numerous redevelopment and expansion projects, including anchors and big box tenants, underway on more than 25 properties in the US and Asia.
It's quite apparent from the map that Simon Property has heavy asset concentration on the US east coast and in central US. The same cannot be said about its west coast asset distribution.
International presence
At the end of fiscal 2014, Simon Property held international ownership interests in:
nine premium outlets in Japan
three premium outlets in South Korea
two premium outlets in Canada
one premium outlet in Mexico
one premium outlet in Malaysia
The company also has non-controlling ownership interests in five outlet properties in Europe through a joint venture with McArthurGlen Group:
two in Italy
one in Austria
one in the Netherlands
one in the United Kingdom
In addition, Simon Property owned a 28.9% equity stake in Klépierre SA (LI), a publicly-traded, Paris-based real estate company that owns, or has an interest in, shopping centers in 13 European countries.
Investors looking for exposure in commercial real estate can invest in REIT ETFs. Simon Property and Public Storage (PSA) make up 8.16% and 4.06% of the Vanguard REIT ETF (VNQ), respectively. Equity Residential (EQR) comprised 6.70% of the iShares Cohen & Steers REIT ETF (ICF).
We'll explore Simon Property's retail mall business in the next part of this series.