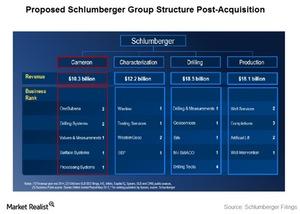 Schlumberger and Cameron International: a Complementary Team
Cameron International's segments and geographic reach
Before going into the details of the acquisition transaction between Schlumberger (SLB) and Cameron International Corporation (CAM), let's look at the business specifics and assets of each company, in order to get a sense of why these two parties came together to propose a deal.
Operating in more than 50 countries, Cameron International mainly provides flow equipment products, systems, and services to upstream energy companies. Schlumberger, on the other hand, supplies technology, provides integrated project management, and furnishes information to upstream companies in 85 countries around the world.
Article continues below advertisement
North America accounted for ~27% of Schlumberger's total 2Q15 revenues, while it accounted for ~60% of Halliburton Company's (HAL) revenues and 34% of Weatherford International's (WFT) revenues during the same period. Schlumberger and Cameron International together make up 7.9% of the iShares North American Natural Resources (IGE).
Rationale behind the Schlumberger-Cameron International deal
The primary reasons Schlumberger and Cameron International are contemplating this merger are:
Schlumberger, through its industry-leading reservoir and well technology solutions (sub-surface), would be aptly complemented by Cameron International's wellhead and surface technology.
Cooperation between the two companies would increase the combined entity's drilling and production system performance through better software and automation process.
There would be little product line overlap between Schlumberger and Cameron International.
The resulting enhanced supply chain performance, engineering, and manufacturing processes would increase efficiency and decrease costs.
Shareholder value would increase with technology-driven growth, complementary businesses, and greater cost efficiency.
In the new structure as shown in the chart above, Cameron International's and Schlumberger's drilling and production systems would be integrated from "pore to pipeline." The proposed new entity is expected to have a 20% higher revenue base.
Article continues below advertisement
Cameron International's business segments
Subsea
Surface
Drilling
Valves & Measurement
Schlumberger's business segments
Reservoir Characterization Group
Drilling Group
Production Group
Geographically, Schlumberger's operations are organized in four primary locations:
North America
Latin America
Europe/Africa/CIS (Commonwealth of Independent States)
Middle East/Asia
You can read more about Schlumberger in "Schlumberger's 2Q15 Earnings Reflect Industry Slowdown."
In the next part of this series, we'll discuss more ways the two companies could benefit each other.