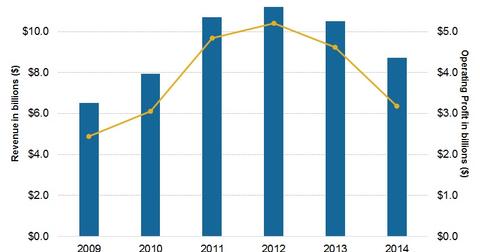 The 2014 Revenue Wobble in Philip Morris's Asia Segment
By Penny Morgan

Updated
Sales and operating profit overview
In 2014, Philip Morris International's (PM) Asia segment reported net revenues totaling $8.7 billion, excluding excise taxes—a 16.9% decline compared to 2013. The region's net revenue including excise taxes decreased 8.3%. This decline was primarily due to the adverse impact of foreign currencies, which accounted for $1 billion, and to unfavourable product volumes and mixes, which accounted for $0.9 billion.
Article continues below advertisement
The Asia segment contributed to 29.3% of the company's total revenue in 2014. The region's operating profit decreased by 31% compared to 2013, to $3.2 billion, but the decrease was due to higher manufacturing costs, primarily in Indonesia. These higher costs were driven by higher clove prices and costs related to the recent shift in Kretek cigarette production, from hand-rolled to machine-made products.
A factory closure in Australia and unfavourable volumes and product mixes also led to decreases in operating income. The operating profit of this segment contributed to 26.4% of the company's total operating profit.
Cigarette volumes and market share
Philip Morris's cigarette volumes decreased in Asia mainly due to tax-driven price increases and competitive pricing in deep discount locations like Japan and Pakistan. The market share of Marlboro and Lark decreased in Japan by 11.6% and 10%, respectively, in 2014. However, peer brands like British American Tobacco's (BTI) Kent, Imperial Tobacco Group's (ITYBY) Davidoff, and Japan Tobacco's (JAPAF) Mevius gained significant growth in Japan. Vector Group (VGR) is diversified only in the US and has no presence in Asia.
Philip Morris's cigarette market share still increased in Korea and Indonesia by 1.2% and 1.9%, respectively, in 2014. These increases were due to higher sales of Parliament in Korea and Marlboro's white cigarette in Indonesia.
Optimizing manufacturing base
In Asia, particularly, total consumption tends to increase with increases in population growth, economic development, and retail development. Due to tariffs and other constraints, Philip Morris plans to establish smaller manufacturing units in Asia, a strategy that should help optimize manufacturing bases while taking into consideration the evolution of trade blocks.
Philip Morris is the third-largest component in the Consumer Staples Select Sector SPDR ETF (XLP), with 7.2% of the portfolio's total weight.