Philip Morris's Initiatives to Boost Distribution and Manufacturing Channels
Philip Morris oversees the distribution of tobacco products in more than 180 countries and territories and owns 50 manufacturing facilities across 23 markets.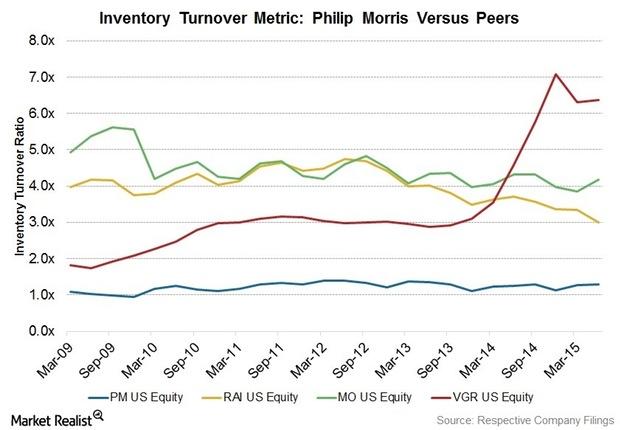 Global presence
Philip Morris International (PM) sells tobacco products in more than 180 countries and territories. It owns 50 manufacturing facilities and maintains manufacturing relationships with 23 third-party manufacturers, across 23 markets. The company's largest factories are in Russia, Philippines, Turkey, Germany, Mexico, and Argentina.
Article continues below advertisement
Article continues below advertisement
2Q15 inventory turnover
The inventory turnover metric for Philip Morris in 2Q15 was stable, at 1.3x, compared to 1Q15. During the same period, peers like Reynolds American (RAI), Altria Group, (MO), and Vector Group (VGR) had inventory turnover ratios of ~3.0x, 4.2x, and 6.4x, respectively. The metric was low for Philip Morris primarily due to lower sales growth and lower shipment volumes of cigarettes. In addition, the unfavorable impact of an adjustment in distributor inventories in Japan led to lower inventories.
Global distribution channels
Philip Morris uses four types of distribution channels globally:
direct sales and distribution
distribution through single independent distributors
exclusive zonified distribution
distribution through national or regional wholesalers
This range of distribution helps the company distribute directly to retailers in a single market, which enables Philip Morris to obtain a suitable return on their investment. In many markets, Philip Morris directly supplies gas stations, retail chains, and supermarkets.
Initiatives on three continents
In order to keep up with the transition from hand-rolled to machine-made kretek cigarettes in Indonesia, Philip Morris has built a manufacturing facility in the country. The company has also maintained 38 third-party operators who manufacture hand-rolled cigarettes in Indonesia.
Philip Morris has also built a new manufacturing facility in the European Union, and an associated pilot plant near Bologna, Italy, to produce RRPs (reduced-risk products). In order to create a new Philip Morris affiliate in Egypt, the company has entered into a new manufacturing agreement with Eastern Company SAE and a new distribution agreement with Trans Business for Trading and Distribution.
Philip Morris has exposure in the iShares S&P 100 ETF (OEF), with 1.1% of the portfolio's total weight as of August 25, 2015.