P&G's Grooming and Hair Care Brands Lead Market
P&G's Gillette, Fusion, and Venus are its largest male and female grooming brands. It has continued to grow with ProGlide and FlexBall in the US.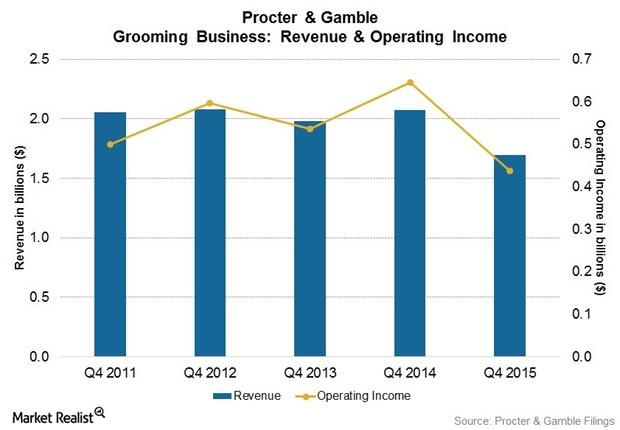 Grooming overview
The Procter & Gamble Company's (PG) Gillette, Fusion, and Venus are P&G's largest male and female grooming brands. The company continues to grow with its innovation of Fusion's ProGlide and the roll-out of its FlexBall in the US. According to CFO Jon Moeller, Procter & Gamble, or P&G, put up 25 million Fusion FlexBall razors around the world in less than 18 months.
In addition, competitors like Estée Lauder (EL) and Unilever (UL) in men's grooming products, as well as the introduction of the Dollar Shave Club, have led P&G to launch an online shave club in June. The club added 70,000 new subscribers in the month of July, indicating the strong demand for blades and razors through e-commerce.
Article continues below advertisement
Article continues below advertisement
E-commerce initiative
The company is building relationships with e-tailers and retailers in order to become the number one page search in organic shave club searches. Also, the company is rolling out a new significant cartridge innovation at the beginning of 2016.
Hair care overview
P&G's hair care division includes products like Head & Shoulders and Pantene. According to Moeller, Head & Shoulders grew organic sales in the mid-single digits for the 20th year in a row and continued to build profit and cash.
This increase was due to the recent launch of Head & Shoulders Instant, the sales for which increased by 75% in the US. Also, Pantene delivered a 4% sales growth in the US and grew market share in the US for the first time in several years—primarily due to heavy investments in rebuilding Pantene's brand equity.
Outlook
P&G recently launched Head & Shoulders Instant in Asia, Europe, and Latin America, and the company plans a new innovation early next year. The company also invests in its revolutionary Pantene Pro-V, which provides unparalleled healthy hair benefits, according to Moeller. This investment will help the company compete with TRESemmé's (UL) shampoos and conditioners.
P&G has exposure in the SPDR S&P Dividend ETF (SDY) and the iShares S&P Growth ETF (IVW), with 1.3% and ~1%, respectively, of the total weight of the portfolios as of September 11, 2015.
In the next part of this series, we'll look at P&G's recent efforts to improve productivity.