Overseas Markets and Nike: Obstacles on the Leading Footwear Company's Revenue Racetrack?
In fiscal 2015, Nike derived ~55% of its sales from overseas markets—18.7% from Western Europe, 12.7% from Emerging Markets, and 10% from Greater China.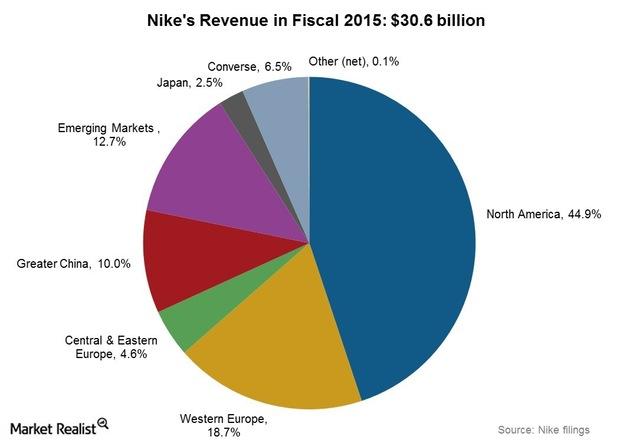 Nike may see mixed performance overseas
Nike (NKE) classifies its results into segments, based on geography. The company is likely to see very different results from the various segments in 1Q16. In fiscal 2015, Nike derived ~55%, or ~$16.9 billion, of its sales from outside North America. Most of these sales came from Western Europe (18.7% of total sales), Emerging Markets (12.7% of total sales), and Greater China (10% of total sales).
Article continues below advertisement
Article continues below advertisement
Futures orders
In fiscal 2015, adverse currency movements had reduced top-line growth by four percentage points. Between June and November 2015, Nike reported a 2% growth in futures orders. Excluding currency movements, growth in futures orders was estimated at 13%. While most markets are expected to grow at a double-digit pace during the period in constant-currency terms, reported growth in futures orders was positive for only two markets—Greater China (up 20%) and Japan (up 1%).
Deteriorating economic fundamentals
The higher US dollar and the challenging macro-environment in many geographies is also likely to affect reported sales and earnings. In particular, the Central & Eastern Europe, Western Europe, Emerging Markets, and Japan segments are likely to be most affected by the higher US dollar. Japan, Brazil, and Russia will likely pose the most risk to Nike's performance, as a combination of macro-factors and adverse forex movements take their toll.
However, 1Q16 sales comparisons in Japan may benefit due to last year's consumption tax increase, which rose in April 2015. This had put a dampener on sales for several succeeding quarters.
Peer group performance
Nike's peers VF Corporation (VFC) and Columbia Sportswear (COLM) also reported a decline in its top-line due to currency factors in their last quarters. The sales declines for VF and Columbia came in at eleven percentage points and four percentage points, respectively, in 2Q15, which for these companies ended on June 30, 2015. VF derives most of its international sales from Western Europe, and so the weak euro affected the company's performance.
However, both VF and Columbia did raise their full-year outlook. Columbia has remained bullish in its prospects for North America, while VF expects a greater upside in earnings per share on improved product margins.
Nike and VF Corporation together constitute 0.6% of the portfolio holdings in the iShares Core S&P 500 ETF (IVV) and 1.1% of the holdings in the iShares S&P 500 Growth ETF (IVW).
In the next part of this series, we'll look at Greater China's impact on Nike's sales in 1Q16.