Mega Brands Set to Dominate in P&G's New Product Portfolio
P&G plans to focus on superior brands in the 10 product categories in its portfolio. It expects one-third of them to surpass $1 billion in annual sales.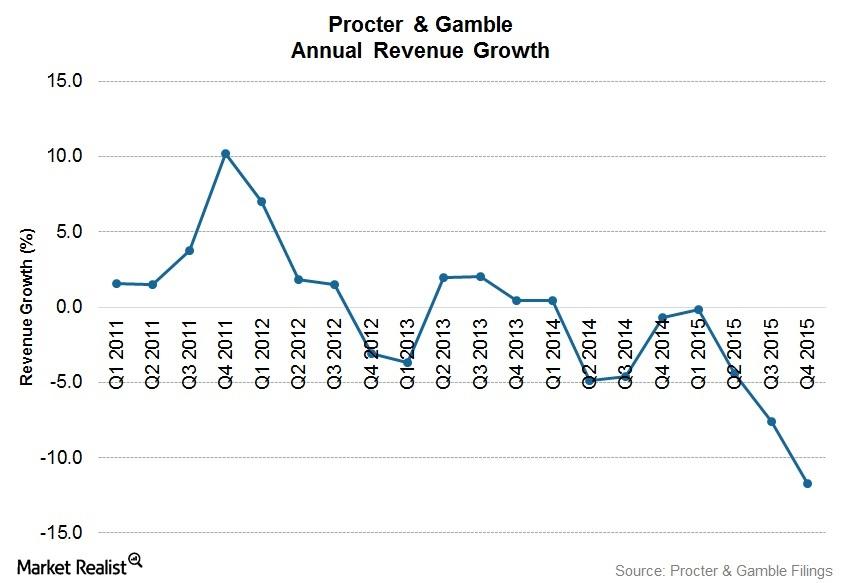 Focused product portfolio
The Procter & Gamble Company (PG), or P&G, after the close if its beauty brands merger with Coty (COTY), will have a focused portfolio of 10 categories and about 65 brands. These categories are:
baby care
feminine care
family care
fabric care
home care
hair care
skin care and personal cleansing
grooming
oral care
personal health care
The company plans to focus on superior brands in these 10 product categories. According to CFO Jon Moeller, the company expects one-third of its brands to see over $1 billion in annual sales and the other two-thirds to see around $0.5 billion in annual sales.
Article continues below advertisement
Article continues below advertisement
Consumer and retailer expectations
P&G peers like Unilever (UL), Kimberly-Clark (KMB), and Clorox (CLX) plan to focus on more product innovations to meet consumer as well as retailer expectations. For example, P&G introduced the use of hard tags to make it easier for consumers to shop as well as to help retailers move out of stock boxes on shelves and at checkout.
These introductions should help retail (XRT) stores use space more efficiently, reduce products that are out of stock, and better control shrinkage. It should also improve sales and help in profitability. P&G plans to roll out the hard tags in the coming year and has already made the change in 100 stores with excellent results, according to Moeller.
Facilities in developing countries
The company plans to move production closer to its major consumer populations and distribution hubs. P&G is currently in the middle of constructing 25 new manufacturing plants and production modules, out of which 18 are in developing countries, according to Moeller.
P&G continues to strengthen its investments in critical capabilities, as well as in more in point-of-market entry trial and sampling programs, in order to improve sales and margins.
P&G has exposure in the SPDR S&P 500 ETF (SPY), with 1.1% of the total weight of the portfolio, as of September 12, 2015.
To learn more about P&G's business, please read the series Procter & Gamble: Your Guide to the Largest Consumer Staples Firm.
For more industry updates and analysis, please visit Market Realist's Consumer Products page.