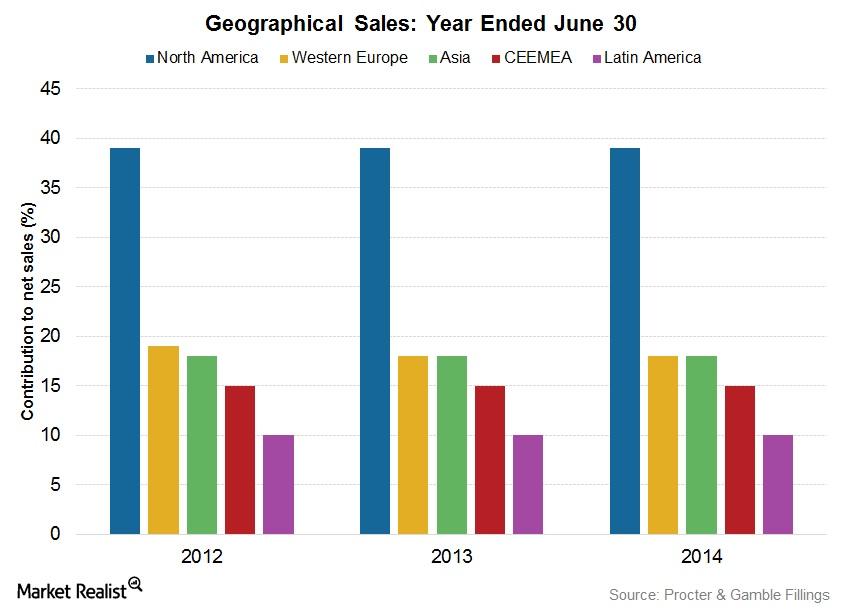 Procter & Gamble: Global Giant in Household, Personal Products
Procter & Gamble at a glance
The Procter & Gamble Company, or P&G (PG), is the largest household and personal products company in the world. The company was established in 1837 by founders William Procter and James Gamble. P&G, along with its subsidiaries, manufactures and sells consumer packaged goods. The company is geographically diversified and sells its products in more than 180 countries and territories.
P&G operates through five segments:
Article continues below advertisement
Fabric Care and Home Care – includes brands such as Ariel, Tide, and Downy
Baby, Feminine and Family Care – includes brands such as Pampers and Always
Beauty – includes brands such as Olay, Pantene, and Head & Shoulders
Grooming – includes brands such as Gillette
Health Care – includes brands such as Oral-B
The above chart shows that most of P&G's revenue is consistently generated within North America.
CEEMEA in the above chart stands for Central and Eastern Europe, Middle East, and Africa.
Article continues below advertisement
Top consumer staples stock
Procter & Gamble figures first among the 39 holdings of the Consumer Staples Select Sector SPDR ETF (XLP) with ~12.3%[1. All figures like the ETF portfolio weights and the market caps are as of June 27, 2015] of the portfolio weight. ETFs including the iShares Core S&P 500 ETF (IVV) and the SPDR Dow Jones Industrial Average ETF (DIA) provide exposure to P&G. IVV and DIA invest ~1.2% and ~2.9% of their respective portfolios in P&G.
Largest market cap in the sector
The consumer staples sector is highly competitive. P&G competes against a wide range of global and local companies. Yet P&G's market cap is $215.2 billion, the largest in the consumer staples sector.
Here are some of the domestic and international players operating in the same lines of business as P&G, and their market caps: