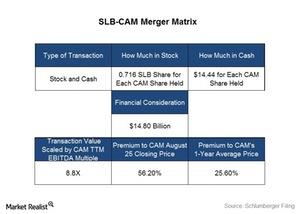 Financial Terms of the Schlumberger-Cameron Merger in Perspective
By Alex Chamberlin

Sep. 10 2015, Published 12:22 p.m. ET
Deal components
Previously in this series, we looked at the operational scope and synergies of the merger between Schlumberger (SLB) and Cameron International Corporation (CAM). In this part, we'll analyze the financial terms of the Schlumberger-Cameron merger, as well as the benefits that Schlumberger shareholders can expect by incorporating Cameron International.
Under the terms of the proposed transaction, each Cameron International stockholder would receive a 0.716 Schlumberger share per Cameron share, plus $14.44 in cash for each share.
The total transaction value was estimated at $14.8 billion as of August 25. Following the deal closure, Cameron International shareholders will own ~10% of the Schlumberger-Cameron merged entity.
Article continues below advertisement
Cheap transaction value?
Cameron International's share price was $65.3 on September 2, 2015. Based on Schlumberger's $75.41 share price on September 2, each Cameron International share should ideally have traded at $68.43 (0.716x Schlumberger share price + $14.44).
So Cameron International was actually trading at a ~4.8% discount to its merger valuation. This figure indicates the market's doubt over the success of the deal—or, at least, an arbitrage opportunity for those convinced that the deal will complete.
Compared to the 56.3% premium that Cameron International would fetch in the deal, the Baker Hughes-Halliburton deal, which was struck on November 17, was at a 40.6% premium. Based on Cameron International's 20-day volume weighted average price per share of $48.45, the transaction value actually represents a 37% premium.
The $14.8 billion transaction value is 8.8x Cameron International's TTM (trailing twelve month) EBITDA. Schlumberger's TTM EBITDA of $12.46 billion is one of the highest in the US oilfield service industry. Cameron International's TTM EBITDA was $1.67 billion.
By comparison, Nabors Industries' (NBR) TTM EBITDA was $1.60 billion, while National Oilwell Varco (NOV) generated a $3.79 billion TTM EBITDA as of 2Q15.
Schlumberger makes up 7.2% of the iShares Dow Jones US Energy Sector ETF (IYE).
Schlumberger eager to strike the deal
Clearly, Schlumberger expects that the transaction will increase shareholder value. After the deal is completed, Schlumberger expects its earnings to increase by the end of the first year.
More specifically, Schlumberger estimates that the combined company will increase shareholder value through operating cost reductions, supply chain streamlining, and manufacturing process improvements. Synergies, arising from cost efficiency, are also expected to add $300 million to the pre-tax income in the first year of the transaction, and another $600 million in the second year.
So does investing in Cameron International hold more potentials than risks? In the next and final part of this series, we'll investigate.