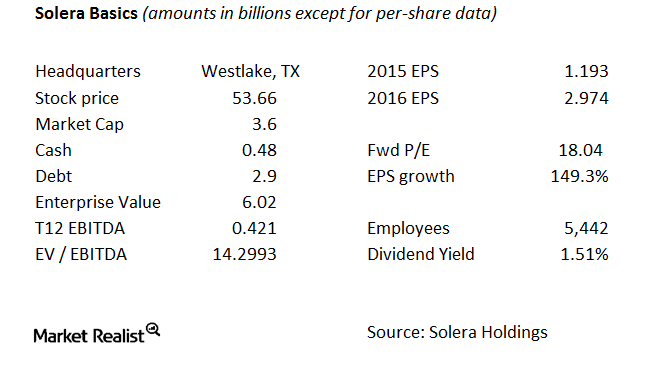 The Basics of Solera
Solera, a major software company
In the Solera Holdings (SLH) 10-K, the company describes its business this way: "We are a leading provider of risk and asset management software and services to the automotive and property marketplace, including the global property and casualty insurance industry. We are expanding beyond our global-leading position in collision repair and U.S.-based mechanical repair presence to bring data driven productivity and decision support solutions to other aspects of vehicle ownership such as vehicle validation, vehicle valuation, glass repair, driver violation monitoring, vehicle salvage and electronic titling. We are also taking our core competencies of data, software and connectivity from the auto to the home."
Article continues below advertisement
Essentially, Solera connects insurers and auto service providers. Its software is used by auto insurance companies, auto dealers, collision repair facilities, assessors, auto recyclers, and various other entities involved in insurance and auto repair. Solera envisions doing the same thing with home insurance, connecting the various entities involved in homeowner's insurance.
Collision repair is the company's main business. Solera coordinates the claims and repair process. Handling the process manually is cumbersome and time-consuming. Solera's value proposition is to streamline this process using technology.
Part of Solera's offerings is an extensive auto repair database that enables its customers to estimate the cost to repair a vehicle. This covers 99% of all cars dating back to 1967, including all the aftermarket parts, options, diagrams, and so forth. When you consider how each part has to be mapped to each individual vehicle, you can see how big the database must be. The company updates approximately 2.4 million records a month.
Solera also offers a subscription service that helps its customers repair and troubleshoot vehicles.
Merger arbitrage resources
Other important merger spreads include the deal between Baker Hughes (BHI) and Halliburton (HAL) and the merger between Freescale Semiconductor (FSL) and NXP Semiconductors (NXPI). For a primer on risk arbitrage investing, read Merger arbitrage must-knows: A key guide for investors.
Investors who are interested in trading in the tech (technology) sector should look at the Technology Select Sector SPDR ETF (XLK).