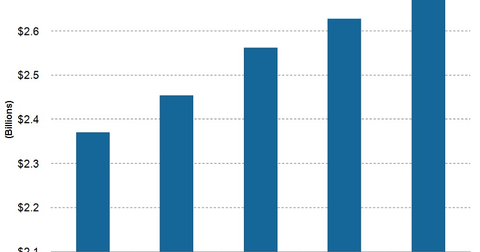 AT&T's Strategic Services: A Revenue Driver for Business Solutions
By Ray Sheffer

Updated
AT&T's Strategic Services
In the previous part of this series, we learned about AT&T's (T) Business Solutions division. Now we will look a growth driver of its subsegment: Strategic Business Services. The company mentioned the consistent revenue growth of these services in the recent analyst conference after its acquisition of DIRECTV (DTV).
The adjusted revenue of AT&T's Strategic Services has grown year-over-year (or YoY) in the range of ~14%–15% since 2Q14. In 2Q15, the adjusted revenue of AT&T's strategic services increased by ~13.6% YoY to ~$2.7 billion.
These figures have been adjusted to remove the impact of the sale of the Connecticut wireline operations of AT&T. The telecom company sold these operations to Frontier Communications (FTR) in October 2014.
Article continues below advertisement
The contribution of AT&T's strategic services to Business Solutions revenue has also been increasing. On an adjusted basis, the revenue of AT&T's strategic services represented ~27.6% of Business Solutions' revenue in 2Q14. Plus, it grew to ~32.7% of the Business Solutions segment's revenue in 2Q15.
Network on Demand
During the recent analyst conference, AT&T highlighted its SDN (software-defined networking) product, Network on Demand. According to the company and as the name suggests, Network on Demand gives flexible management to clients in several areas, including adjusting bandwidth requirements online and on their own. The company also highlighted the shorter lead times in the product's deployment, as well as its associated cost benefits during the analyst conference.
Instead of investing directly in AT&T's stock, you may take a diversified exposure to the telecom company by investing in the SPDR S&P 500 ETF (SPY). AT&T represented ~1.1% of SPY as of July 31, 2015.
Alternatively, you may consider taking a diversified exposure to AT&T through the iShares Russell 1000 ETF (IWB). The company contributed to ~1% of IWB's holdings at the end of July.