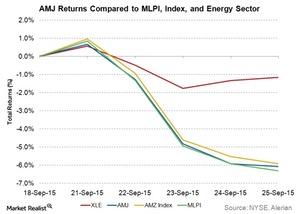 AMJ Falls, Marginally Outperforms MLPI in Week Ended September 25
By Rekha Khandelwal, CFA

Sep. 28 2015, Published 2:50 p.m. ET
AMJ falls 6.1%
The JPMorgan Chase Alerian MLP Index ETN (AMJ) fell 6.1% in the week ended September 25. The Alerian MLP Index (AMZ) is AMJ's underlying index and fell 5.9% during the week.
The index's biggest losers in the week include Summit Midstream Partners (SMLP), Shell Midstream Partners (SHLX), Golar LNG Partners (GMLP), Teekay Offshore Partners (TOO), and Valero Energy Partners (VLP). They fell 24.7%, 16.4%, 14.0%, 13.2%, and 13.0%, respectively, during the week.
AMJ underperformed broad market ETFs last week. The broad-market SPDR S&P 500 ETF (SPY) fell 1.3% during the week. AMJ also underperformed the Energy Select Sector SPDR ETF (XLE), which fell 1.2% during the week. AMJ traded at a yield of 5.6% at the end of the week.
The above graph compares AMJ's returns for the week with AMZ, MLPI, and XLE. AMJ has a tracking fee of 0.85% per year, and its current market capitalization is $4.2 billion. We discussed MLPI in the last part of this series.
ETNs are senior unsecured debt securities. They provide investors with an easy way to gain exposure to various market indices. ETN investors are exposed to the issuer's credit risk—in this case, JPMorgan Chase (JPM).
Article continues below advertisement
AMZ Index
AMZ is a 50-member market cap–weighted index made up of energy MLPs. AMZ is broader than the Alerian MLP Infrastructure Index (AMZI). AMZI consists of ~25 energy infrastructure-focused MLPs.
The Alerian MLP ETF (AMLP) and the ETRACS Alerian MLP Infrastructure Index ETN (MLPI) track AMZI. As the above graph shows, MLPI returns were close to AMJ's. AMJ tracks the broader AMZ index.
AMZ's top three components are Enterprise Products Partners (EPD), Energy Transfer Partners (ETP), and Magellan Midstream Partners (MMP). They form 17.3%, 10.9%, and 7.4%, respectively, of the index.
Suburban Propane Partners (SPH), TC Pipelines (TCP), EnLink Midstream Partners (ENLK), and AmeriGas Partners (APU) are some of the index's smaller components. Together, these four MLPs form ~5% of AMZ.