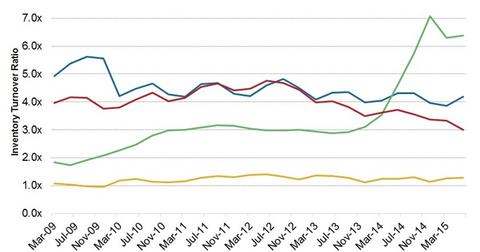 Altria Group's Initiatives to Improve Distribution Channels
By Penny Morgan

Sep. 18 2015, Updated 12:07 p.m. ET
Overview
For the Altria Group (MO) and its tobacco subsidiaries, distribution is limited to wholesalers, large retail (XRT) organizations, and the armed forces in the United States. However, other companies like Philip Morris International (PM), British American Tobacco (BTI), and Japan Tobacco (JAPAF) distribute their products in many other diverse geographies.
US Smokeless Tobacco Company's and Middleton's procurement of raw material (burley, dark fire-cured, and air-cured tobaccos of various grades and styles) comes directly from domestic tobacco growers under contract growing programs (Middleton does not have a contract growing program) as well as from leaf merchants. This direct supply chain aids faster quality improvements and cost reductions.
Article continues below advertisement
Inventory turnover metric versus peers
Altria's inventory turnover metric for  2Q15, which for it ended on June 30, 2015, was stable at 4.1x, compared to 2Q14. Peers Philip Morris International (PM), Reynolds American (RAI), and Vector Group (VGR) had inventory turnover ratios of 1.3x, ~3.0x, and 6.4x, respectively. The metric was high for Altria Group due to increased sales and shipment volumes of Black & Mild Jazz and Copenhagen.
Altria's distribution of Ste. Michelle's wines occur through state-licensed distributors. The company's largest customer, McLane Company, accounted for 27% of the total consolidated net revenue for 2014. Altria also has a wholly-owned subsidiary named Altria Group Distribution Company, which provides sales, distribution, and consumer engagement services to Altria Group subsidiaries.
Expansion of distribution channels
Altria's subsidiary Philip Morris USA focuses on the distribution of Marlboro Menthol Rich Blue to 28 states. This brand is positioned help Marlboro compete in the menthol segment primarily in the eastern US.
Philip Morris USA also communicates with smokers 21 and older through direct mail and email, and Marlboro.com helps increase the number of Marlboro connections with adult smokers via direct email. The consumers can access articles, interviews, photographs, and videos on their PCs and mobile devices.
Legislative initiatives have been designed to protect the legitimate channels of distribution and to provide additional tools for law enforcement to address the illicit trade in tobacco products.
In the next part of this series, we'll look at Altria Group's Smokeable Tobacco Products segment.