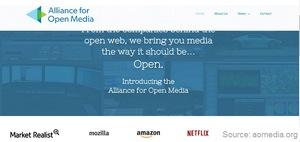 Alliance for Open Media: Netflix, Google, and Amazon Team Up
Alliance for Open Media
The Wall Street Journal reported on September 2, 2015, that seven companies in the field of technology have joined hands to launch an open-source project. These companies include Netflix (NFLX), Google (GOOG), Amazon (AMZN), Cisco Systems (CSCO), Intel (INTC), Microsoft (MSFT), and Mozilla. Together, these companies plan to develop new media formats including royalty-free video.
A proprietary video is when a company holds patents for various video formats and the video players that play these formats. For example, an .AVI format is a file container that contains video data. In order to view a video in this format, a user has to use a Windows media player.
Microsoft holds the patents for the technology for the .AVI format and the Windows media player. It means that video streaming companies like Netflix have to pay royalties to Microsoft to stream videos that have to be played on a Windows Media or QuickTime media player.
Article continues below advertisement
Article continues below advertisement
Purpose of Alliance for Open Media
The Alliance for Open Media aims to develop video formats that have no royalty costs. Most of the companies involved in this Alliance, including Netflix, Facebook, Google, and Amazon, are participating in the business of streaming videos, real-time videos, or user-generated videos.
The nature of this business makes royalty payments to technological companies like Apple (AAPL) significant for these companies. Companies like Netflix use Apple's patented technology to stream videos.
The Alliance for Open Media website states, "The Alliance's initial focus is to deliver a next-generation video format that is:
Interoperable and open;
Optimized for the web;
Scalable to any modern device at any bandwidth;
Designed with a low computational footprint and optimized for hardware;
Capable of consistent, highest-quality, real-time video delivery; and
Flexible for both commercial and non-commercial content, including user-generated content."
It remains to be seen how the Alliance for Open Media will develop.
You can get a diversified exposure to Microsoft by investing in the iShares Core S&P 500 ETF (IVV), which holds 2% of the stock.