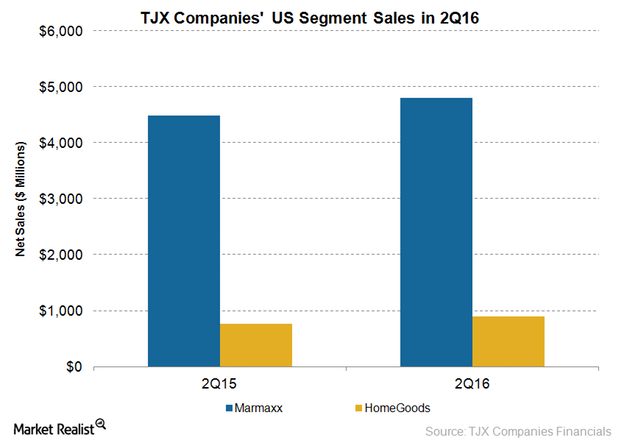 TJX Companies: Pricing Strategy Benefits US Sales in 2Q16
US business 2Q16 sales
TJX Companies' US business (TJX) posted strong results in 2Q16 ended August 1, 2015. Net sales reported by this business, consisting of Marmaxx and HomeGoods stores, increased 8.2% to $5.3 billion on a year-over-year basis.
Article continues below advertisement
Article continues below advertisement
US sales by segment
Sales reported by TJX Companies' Marmaxx segment, which includes T.J. Maxx, Marshalls, and tjmaxx.com, increased 6.9% to $4.8 billion on a year-over-year basis. Same-store sales posted by the Marmaxx segment increased by 4% in 2Q16.
According to Carol Meyrowitz, TJX Companies's chairman and CEO, the company's strategy to adjust pricing and mix led to higher consumer traffic and units sold. Though TJX Companies' pricing strategy led to a lower average ticket, it was more than offset by higher units sold.
Marmaxx's apparel and home fashions categories performed well during the quarter. Segment profit increased by 4.4% to $715.5 million, as stronger sales were offset by lower margins. The company opened seven new stores in the US in 2Q16.
The HomeGoods segment reported a sales increase of 15.8% to $895.4 million, and the segment's profit rose 18.5% to $112.1 million. The segment's same-store sales increased by 9% in 2Q16. The segment, which sells merchandise including kitchen and gourmet cookware, furniture, lighting, rugs, bath, and bedding products, has delivered strong sales growth in recent quarters. In the first six months of fiscal 2016, HomeGoods accounted for 12.2% of the consolidated net sales of TJX Companies. That's up from 11.2% in the comparable period of the previous year. The company opened five new HomeGoods stores in 2Q16.
Comparison of same-store sales growth
Overall, TJX Companies' same-store sales growth, including its international segments, came in at 6% in 2Q16. Ross Stores (ROST) reported growth of 4% in its second-quarter same-store sales. Nordstrom (JWN) and JCPenney (JCP) experienced same-store sales growth of 4.9% and 4.1%, respectively, in comparable second quarters.
TJX Companies, along with Nordstrom and Ross Stores, constitute 0.8% of the portfolio holdings of the iShares Russell 1000 Growth ETF (IWF) and 1.1% of the First Trust Consumer Discretionary AlphaDEX Fund (FXD).
We'll discuss how the company's international segments performed in the next part of this series.