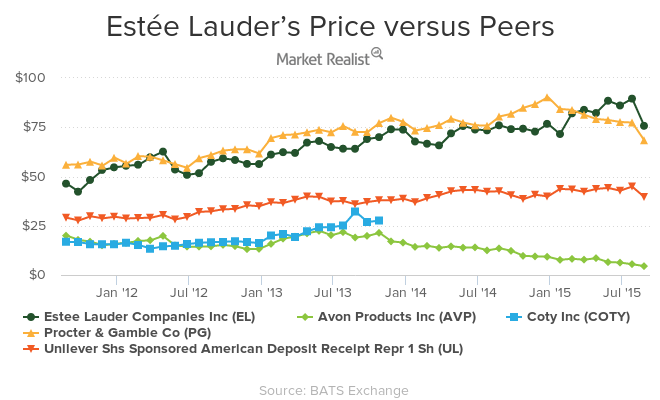 Porter's Five Forces Model: Estée Lauder's Competitive Analysis
Competitive analysis
Estée Lauder (EL) is a leading manufacturer and marketer of high-end beauty and cosmetics products. Clinique, Bobbi Brown, Lab series, MAC, and Jo Malone are some of its famous brands.
[marketrealist-chart id=590254]
Article continues below advertisement
Bargaining power of individual buyers and retail customers
Estée Lauder's products are priced high and cater to the premium market. However, affluent buyers are less price-sensitive and unlikely to switch to lower-priced products.
EL and other premium cosmetics brands such as L'Oréal (LRLCY), LVMH Moet Hennessy Louis Vuitton (LVMUY), and Coty (COTY) are increasingly dependent on specialty retail (XRT) stores and department stores. For instance, Macy's is EL's largest customer, having contributed to 10% of the consolidated net revenue for fiscal 2014[1. Year ended June 30, 2014]. EL's sales could be affected adversely with any adverse change in Macy's customer base. This increases the business risk for EL, as it has limited control over Macy's customer base.
Bargaining power of suppliers
EL purchases raw materials on a global basis through its Global Supplier Relations department. This concentrated effort in supplier rationalization helps to review the supplier base with the objective of reducing costs, increasing innovation and speed to market, and improving quality. However, EL's sourcing model could result in increased dependency on suppliers.
Article continues below advertisement
Intensity of competition
EL faces stiff competition from L'Oréal, Coty, and Avon (AVP) products worldwide. According to Research and Markets' Business Wire report, the beauty industry brought in 2013 revenue of $379 billion, which is anticipated to reach $461 billion in 2018. EL's revenue reached $11 billion in fiscal year 2014.
Threat of substitutes
Skin care and beauty products have a large number of substitutes. However, it is hard to replace a product that is branded with a high reputation unless there is a new technology that promises permanent skin improvement. EL develops essential ingredients in its own research and development departments. This is a major competitive advantage.
Cosmetics is typically bought according to skin types and income levels. It's difficult for a new company to enter the skin and beauty care business unless the brand features new technology.
Hence, high-end companies such as EL rely heavily on repeat customers and mainly compete on product quality, brand recognition, and product differentiation.