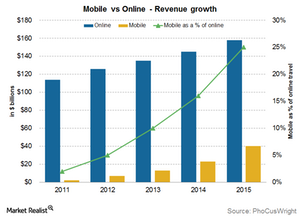 Online Travel Agencies: Future Industry Outlook
A merry ride for the industry
The idea of booking vacations, tickets, hotels, and rental cars online might have seemed a crazy idea when Microsoft (MSFT) launched Expedia (EXPE) in 1996. Almost two decades later, OTAs (online travel agencies) like Expedia, Priceline (PCLN), and TripAdvisor (TRIP) are generating huge revenue with gross reservations crossing the $35 billion mark. Priceline forms 2.77% of the Consumer Discretionary Select Sector SPDR (XLY).
Article continues below advertisement
OTAs have done well in the past few years. They've ridden on the surge in the travel industry because more people are travelling for business and leisure. The online travel market looks mature in many countries like the US and Europe. Online booking accounts for more than 40% of total travel sales, respectively. In most countries, the percentage of online bookings are seeing healthy growth. This is expected to rise. The growing number of people that own mobile devices indicates a clear shift in booking patterns towards mobile devices. The main market drivers for OTA companies are higher digitization, mobile adoption, and international expansion.
New markets
As markets in US and Europe look more mature, OTAs can now shift their focus to relatively newer and untouched markets like Italy, Spain, Germany, Mexico, China, the United Arab Emirates, Brazil, Norway, and India. These countries have a developed tourism industry as well as a rapidly emerging digitally equipped middle class. Both of these factors combine to make them a lucrative market for online travel bookings as more people shift from offline to online channels.
Capturing customers
Social media is now playing an even larger role in driving traffic towards online travel sites. As more people use mobiles and wearable technologies, the companies would need to focus on building better apps. As a result, the need for better digital advertising, stronger big data analytics, and social media marketing is growing rapidly.
In the next part, we'll discuss some of the possible future threats for the OTA business.