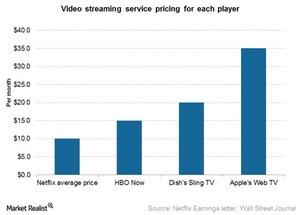 Netflix Is Slaying the Competition with Pricing
Membership plans
Netflix (NFLX) offers three types of streaming membership plans in the United States. The company's basic plan is priced at $7.99 per month and includes standard definition quality streaming on a single screen at a time. The second plan, the more popular plan priced at $8.99 per month, offers HD (high-definition) streaming on two screens concurrently. The third premium plan, priced at $11.99 per month, includes access to HD and ultra-HD quality content on four screens concurrently.
Article continues below advertisement
Article continues below advertisement
As you can see in the above graph, Netflix pricing is the lowest among all video streaming service players. Dish Network's (DISH) Sling TV, priced at $20 per month, is slightly more expensive than other over-the-top service providers such as Time Warner Cable's (TWC) HBO Now priced at $15 per month.
Apple (AAPL) has yet to launch its Web TV service, which is expected to cost $30–$40 per month. You can get a diversified exposure to Apple by investing in the iShares S&P 500 Index (IVV), which holds 3.9% of the stock.
Netflix says its basic plan of $7.99 is propelling the company's streaming membership growth in the United States. In the past year, the company raised its average selling price by 5%. Netflix says it intends to increase its price gradually over the decade as it adds more original content to its content library.
Netflix price edges out competitors
Netflix offers its services at $7.99–$11.99 per month. Netflix's $11.99 service is for someone looking to watch content on 4K TV. The company believes it offers a great service at that price.
Netflix also believes that HBO has a completely different content and original programming that don't overlap Netflix's. So HBO Now (TWX) doesn't threaten Netflix's business. Netflix considers Dish Network's Sling TV more of a competition to pay-TV providers, since Netflix offers great value at a lower price.