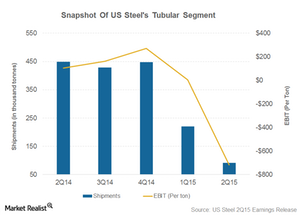 Losses Widen in U.S. Steel's Tubular Segment as Fixed Costs Rise
U.S. Steel's Tubular segment
Previously in this series, we looked at U.S. Steel Corporation's (X) flat rolled segment. In this part, we'll analyze the 2Q15 financial performance of the firm's Tubular segment. The segment provides steel products to the energy sector (XLE). These products are also collectively known as OCTG (oil country tubular goods).
Lower crude oil prices have negatively impacted the demand for OCTG products. Higher import levels, especially from Korea, are another headwind for the segment.
Nucor (NUE) gets ~10% of its revenues from tubular products. Toghether, Nucor and Reliance Steel & Aluminum (RS) form ~10.7% of the SPDR S&P Metals and Mining ETF (XME).
Article continues below advertisement
Shipments tumble
Shipments from U.S. Steel's Tubular segment tumbled to 92,000 tons in 2Q15, as can be seen in the chart above. This represents an 80% year-over-year decline. The capacity use ratio in U.S. Steel's Tubular segment fell to a dismal 15% in 2Q15.
Steel Dynamics had a capacity use ratio of 87% in 2Q15. This compares favorably with an industry-wide use ratio of ~74%.
Higher fixed costs
Running production plants at less than optimal capacities increases the costs of production. The reasoning is quite intuitive. Fixed costs are distributed among fewer units so costs per unit go up. According to analysts, the profitability of steel companies is negatively impacted if plants operate at less than 80% capacity use rates.
The per unit production costs in U.S. Steel's Tubular segment climbed 45% in the quarter from 1Q15. The segment generated negative EBIT (earnings before interest and taxes) of $717 per ton in 2Q15.
Demand for OCTG products is expected to be subdued in the coming months as well. This would continue to put pressure on U.S. Steel's Tubular segment.
In the next part of this series, we'll discuss how U.S. Steel's Europe operations fared in 2Q15.