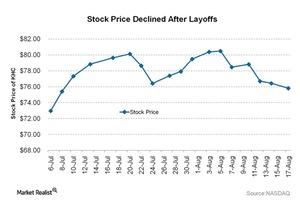 Kraft Heinz: What Happened after the Merger?
Details of the Heinz Kraft merger
The Pittsburgh-based, privately owned ketchup maker H.J. Heinz Holding Corporation acquired Kraft Foods last month. After the merger, the company changed its name to Kraft Heinz, becoming the third-largest food and beverage company in North America and the fifth-largest in the world. 3G Capital, a Brazilian private equity firm, and billionaire investor Warren Buffett's Berkshire Hathaway contributed to the merger by together investing $10 billion in the deal, making the Kraft Heinz Company worth about $46 billion.
Article continues below advertisement
Effect on stock price
Kraft Heinz started trading on July 6, 2015, on NASDAQ under the ticker KHC. Since the company announced layoffs on August 12, 2015, the stock fell by 1.16% and is now trading at $75.80.
Let's see what led to the layoffs.
Post-merger cost cutting
The company, in its plan to save $1.5 billion in annual costs by 2017, started with cutting about 2,500 jobs since the merger of the two US food giants faced sales challenges amid changing consumer tastes.
Bernardo Hees, CEO of the newly formed Kraft Heinz, said, "The job cuts are not surprising, given the reputation of the company's management on Wall Street." Hees also stated that he has overseen cost cutting at Heinz, representing 20% of the workforce, since it was taken over in 2013 in a prior partnership between 3G and Berkshire. The 3G Capital Company is well known for its tight cost controls, meaning the cuts announced on August 12 mostly affected people on the Kraft side of the business.
Article continues below advertisement
As per company spokesman Michael Mullen, the job cuts are part of the company's process of integrating the two businesses and designing the new organization. "This new structure eliminates duplication to enable faster decision-making, increased accountability and accelerated growth," Mullen said. He said the savings would free up money that can be invested back into the company's products.
Dividend declared
As per the company's press release, on July 31, 2015, it paid a cash dividend of $0.55 per share to all stockholders of record at the close of business on July 27, 2015. This dividend was in lieu of the dividend declared on June 22, 2015, by Kraft to its shareholders of record as of July 27, 2015. The payment was conditional on the merger not having closed by that date.
Kraft Heinz's competitors include McCormick & Company (MKC) and Pinnacle Foods (PF), which recorded positive year-to-date returns of 14.40% and 33.51%, respectively. Peer Dean Foods Company (DF) reported -10.01%.
The Power Shares S&P 500 Low Volatility ETF (SPLV) invests 1.02% of its portfolio in MKC and the SPDR S&P 500 ETF Trust (SPY) invests 0.05%.