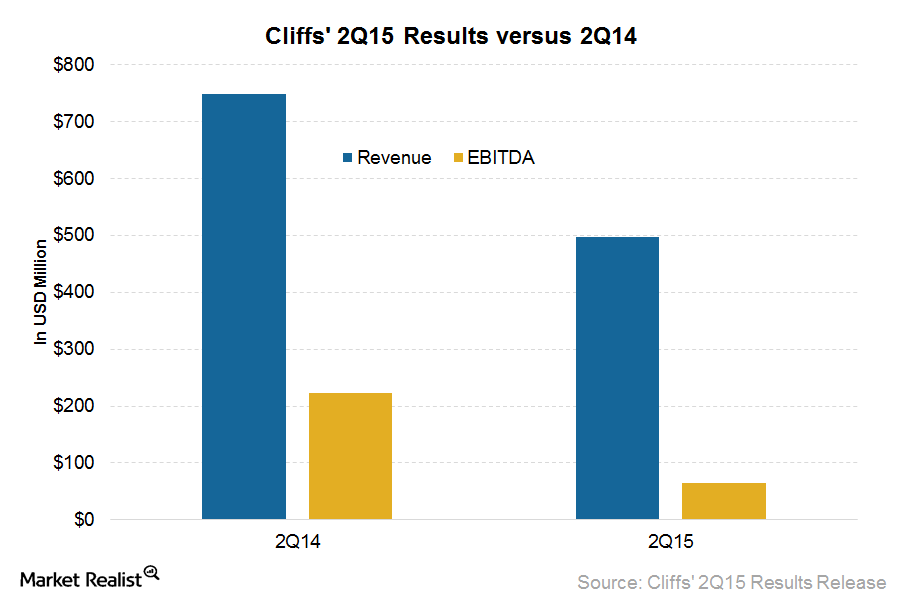 Key Highlights of Cliffs Natural Resources' 2Q15 Earnings
Revenues lower in 2Q15
Cliffs Natural Resources (CLF) reported revenues of $498 million for 2Q15, a decline of 33% year-over-year (or YoY). A decline in revenues impacted the company's EBITDA (or earnings before interest, tax, depreciation, and amortization) negatively, as the cost of goods sold decreased by only 22% YoY.
Article continues below advertisement
Adjusted income below expectations
Cliffs reported net income of $60 million, which translates into earnings per share (or EPS) of $0.39 per share. However, this includes income from discontinued operations of $103.4 million.
The company's management further elaborated during the earnings call that this income related primarily to the Wabush liability reversal. After adjusting for this, Cliffs' earnings amount to a loss of $0.28 per share. This is below the consensus expectations of a loss of $0.11 per share.
Costs in control
Cliffs' SG&A (selling, general and administrative) expenses amounted to $31 million for 2Q15. This is a decrease of 25% YoY, mainly driven by reduced headcount and other cost-saving initiatives. As we'll discuss in detail later in this series, the per-unit costs for US iron ore and Asia–Pacific iron ore divisions have also reduced significantly.
Other companies in the iron ore segment, Rio Tinto (RIO) and BHP Billiton (BHP), will announce their 2Q15 results on August 15 and August 25, respectively. Vale SA (VALE), on the other hand, announced its 2Q15 results on July 30.
The SPDR S&P Metals and Mining ETF (XME) is another way for investors to get exposure to the metals and mining space without picking individual companies. Cliffs forms 3% of XME's holdings.