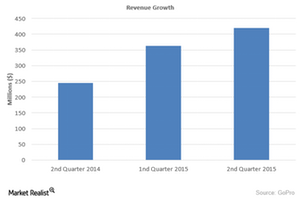 GoPro Increased Its Revenue and Geographical Reach
GoPro increases its product line to attract consumers
GoPro (GPRO) is based in California. It develops, manufactures, and markets high definition camcorders. The IDC (International Data Corporation) reported that GoPro has 30.40% of the camcorder market share. It's followed by the most reputed firm—Sony (SNE). Sony has a 20.80% share. Recently, GoPro introduced HERO4 and HERO + LCD to retain old consumers and attract new consumers. These products helped its overall revenue rise from $363.1 million in 1Q15 to $419.9 million in 2Q15.
GoPro is facing competition from ION America, Sony, and Garmin (GRMN). Garmin entered the camcorder camera market with the VIRB X and VIRB XE in 2013. ION introduced the Air Pro in 2012—its first actionable camera in Japan. It introduced the camera in the US a year later.
Article continues below advertisement
Revenue generated by geographical region
GoPro has expanded geographically to the EMEA (Europe, the Middle East and Africa ) and APAC (Asia-Pacific) countries. It has 40,000 retail outlets. GoPro's revenue rose 126% in 2Q15—compared to the same quarter the previous year. The revenue generated from APAC tripled to $70.4 million in 2Q15 from $24.9 million over the same quarter the previous year. China is the top ten revenue generating country for GoPro. Europe's revenue rose to $137.2 million in 2Q15 from $67 million in 2Q14. In the US, the revenue rose 39% in 2Q15. The revenue was $212.3 million. It was $152.7 million the same quarter the previous year.
GoPro is part of the iShares Russell Mid-Cap ETF (IWR) and the iShares Russell 1000 Growth ETF (IWF). They have holdings of 0.07% and 0.04%, respectively.