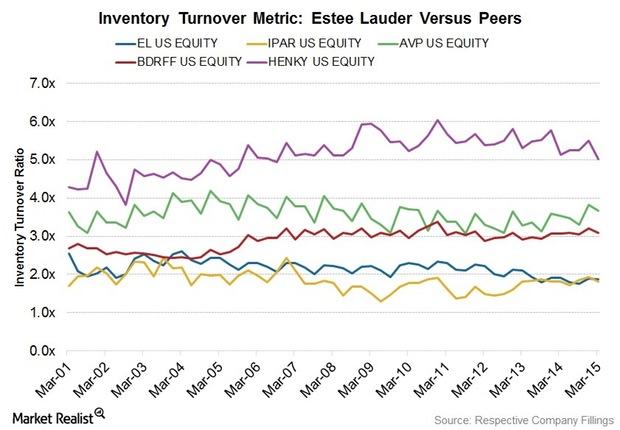 Estée Lauder's Strategies to Improve Supply Chain Performance
Inventory turnover metric compared to that of peers
Estée Lauder (EL) products are sold in more than 150 countries and territories. EL manufactures its products primarily in the US, Belgium, Switzerland, the UK, and Canada. The procurement of raw materials (essential oils, alcohols, and specialty chemicals) takes place on a global basis through EL's Global Supplier Relations department. This helps facilitate faster quality improvements and cost reductions.
Article continues below advertisement
The inventory turnover metric for EL for 3Q15[1. Quarter ending March 31, 2015] was stable at 1.9x compared to 3Q14. Peers Inter Parfums (IPAR), Avon (AVP), Coty (COTY) and Beiersdorf (BDRFF) had inventory turnover ratios of 1.8x, 3.1x, 3.2x, and 3.7x, respectively for 3Q15. The metric was lower for EL due to limited distribution channels.
Limited distribution channels
The company sells its products through limited distribution channels such as upscale department stores, specialty multi-brand retailers, upscale perfumeries and pharmacies, and prestige salons and spas. In addition, EL products are sold in freestanding stores, their own authorized retailer websites, stores on cruise ships, in-flight and duty-free shops, and direct response television, or DRTV.
Article continues below advertisement
Growing need of diversifying distribution channels
EL plans to diversify its distribution channels by opening new single-brand stores, to be operated by EL or its distributors. Currently, EL operates 940 freestanding stores, and its distributors operate 340.
Some of EL's brands are sold directly to consumers online through 120 of their own e-commerce and m-commerce sites in 28 countries, including the US, Canada, the UK, France, Germany, Austria, Brazil, Russia, Denmark, Italy, Australia, Korea, China, and Japan.
Also, the company has implemented a Strategic Modernization Initiative, or SMI, through SAP-based technologies, or SAP, to integrate data, processes, and technologies that will be used to standardize business processes. This will help in inventory management globally with minimal paperwork.
Improving supply chain network
To improve its supply chain efficiency, EL aims to utilize a network of third-party manufacturers on a global basis, including an increased percentage of manufacturing volume in the Asia Pacific region to support growth. EL is continually benchmarking the performance of its supply chain and adjusting its distribution networks and manufacturing footprint based upon the changing needs of the business.
EL and Procter & Gamble (PG) have exposure in the iShares Core S&P 500 ETF (IVV) with a total weight of 1.3%[1. Updated July 28, 2015].