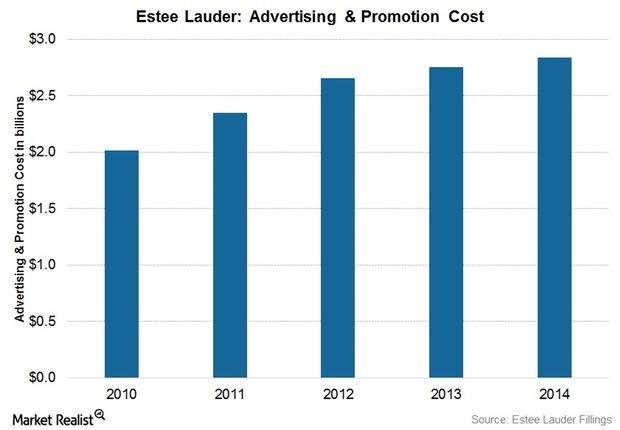 Estée Lauder's Marketing Strategies to Reach New Consumers
The pillars of Estée Lauder's marketing strategy
Estée Lauder (EL) centers its marketing philosophy on promoting its high-quality products to its loyal consumer base. The global net expense for advertising, merchandising, sampling, promoting, and developing products for fiscal 2014[1. Year ending June 30, 2014] came in at $2.8 billion, or 25.4% of net sales.
Estée Lauder and peers L'Oréal (LRLCY), Avon (AVP), Coty (COTY), and Beiersdorf (BDRFF) advertise and market their products through various media, including television, magazines and newspapers, digital avenues, and social media. EL also markets through direct mail and photo displays at international airports and seeks editorial coverage for its brands and products in publications and other media. Editorial coverage in high-end media channels is critical for EL's success, especially for newer brands.
Article continues below advertisement
Promotional campaigns
Estée Lauder's Gift-with-Purchase and Purchase-with-Purchase technique works wonderfully by rewarding loyal customers for purchasing EL products and by attracting new customers who otherwise might not buy EL products. For example, with any New Dimension Skincare purchase, EL offered a free five-day supply of Advanced Night Repair through August 9, 2015.
Promotional activities and in-store displays are designed to attract new customers. The company has offered 15% off first orders from new customers on the EL online store. Apart from advertising and promotional activities, EL's marketing and sales executives spend time in the field with consumers, retailers, and beauty consultants at the point of sale. These include Clinique Consultants, Origins Guides, and MAC and Bobbi Brown Makeup Artists.
Forward-looking marketing initiatives
EL aims to partner with key brick-and-mortar retailers to strengthen their prestige beauty shopping e-commerce websites to better meet consumer online shopping preferences. For example, how-to videos, ratings and reviews, and mobile and tablet applications will help in driving sales of the EL brand on websites and also build brand equity and consumer engagement.
EL has exposure in the SPDR S&P 500 ETF (SDY) with 0.1%[2. Updated July 28, 2015] of the total portfolio weight. The next piece in this series discusses EL's e-commerce initiatives in further detail.