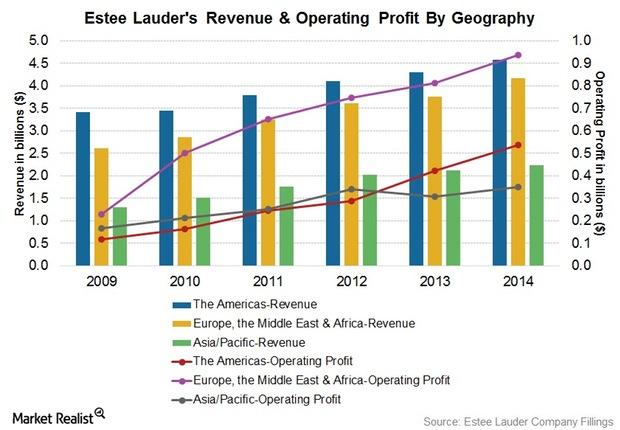 Estée Lauder's Efforts to Expand Its Geographical Presence
Geographical concentration
Estée Lauder (EL) markets its beauty and cosmetics products in more than 150 countries and territories. EL derives its revenue from three geographical regions. In fiscal 2014, the company recorded sales of ~$10.9 billion, with the highest geographical exposure coming from the Americas (41.7% of total sales).
Article continues below advertisement
Overseas exposure
Approximately 63.5% of Estée Lauder's revenue was generated from markets outside the US in fiscal year 2014[1. Fiscal year ending June 30, 2014]. Similarly, Procter & Gamble (PG) derived ~64.5% of its revenues from markets outside the US in fiscal 2014.
Growing international market
EL's Europe, the Middle East, and Africa region contributed 51.4% or $0.9 billion of the total operating income of the company in fiscal year 2014. This was the highest among all regions. The higher results were primarily due to EL's higher sales from its travel retail business in the UK, France, and Germany. The travel retail business grew significantly in this region due to new product launch initiatives and increasing global airline passenger traffic.
Article continues below advertisement
The Americas region contributed $0.5 billion or 29.4% of the total operating profit in fiscal year 2014, while, the Asia Pacific region contributed $0.3 billion or 19.1% of the total operating profit. However, operating income increased the most for the Americas region. The 27% annual increase in operating income was the result of new collections from MAC and Bobbi Brown and the continued expansion of Smashbox.
Increasing growth in emerging markets
Like EL, competitors such as Avon (AVP), Beiersdorf (BDRFF), and L'Oréal (LRLCY) focus on synergies to grow in emerging markets. EL aims to expand its market share in China, the Middle East, Eastern Europe, Brazil, and South Africa and aims to focus on consumers who purchase in travel retail channels. In addition, EL plans to strengthen its position in large, image-building cities within the core markets such as the US, the UK, France, Italy and Japan.
Estée Lauder has exposure in the iShares Core S&P 500 ETF (IVV) with 0.1%[2. Updated August 6, 2015] of the total weight of the portfolio.