Estée Lauder Sees Positive Outlook in China
International brands such as Estée Lauder (EL), L'Oréal (LRLCY), Procter & Gamble (PG), Shiseido (SSDOY), and Nivea (BDRFF) dominate the cosmetics market in China.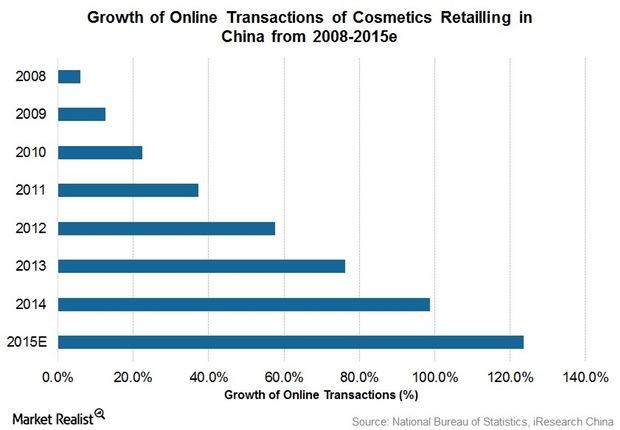 Chinese market overview
Estée Lauder (EL) is a fast-growing beauty and cosmetics company in China. In the past five years, China has emerged as the largest market for beauty and cosmetics products with an annual growth rate of 12.3%. International brands such as Estée Lauder (EL), L'Oréal (LRLCY), Procter & Gamble (PG), Shiseido (SSDOY), and Nivea (BDRFF) dominate the Chinese cosmetics market, accounting for over 60% of the Chinese market share compared to domestic brands.
Article continues below advertisement
Article continues below advertisement
The road to e-commerce in China
The online retail channel and social networking media have been growing in popularity across the world. According to the National Bureau of Statistics cited in Statista, the online transaction value of cosmetics retailing in China is forecasted to grow by 123.7% in 2015. Since 2014, however, Estée Lauder has seen lower sales growth in China due to the adverse impact of the Chinese government's crackdown on luxury spending in China. This has affected sales in the travel retail (XRT) (XLY) channel as well as online sales and brick-and-mortar sales.
Though the Chinese e-commerce market is maturing, sales vary widely by the differently tiered cities in China. For example, in tier-2 and tier-3 cities such as Dalian, Xi'an, or Fuzhou, older items may sell better than in Shanghai (tier-1). Consumers in lower tier cities are more focused on the basic value proposition when making a purchase decision.
However, according to a KPMG report, ~40% of all e-commerce transactions are fashion accessories, purchased by younger, white-collar, urban female shoppers.
While Estée Lauder's overall business is performing well, it faces challenges in the Chinese and Korean economies due to unfavorable foreign exchange rates.
Initiatives
Chinese consumers have a very high standard regarding their skincare. Skincare represents two-thirds of prestige beauty in China. Estée Lauder plans to expand presence in these economies. For example, EL opened an innovation center in Shanghai tailored to the specific needs of Chinese and Asian skin types.
In addition, Estée Lauder has developed an efficient digital strategy in China establishing a large presence on search engines. EL's brands such as MAC, Aramis, and Clinique have their own social accounts and strategies in China.