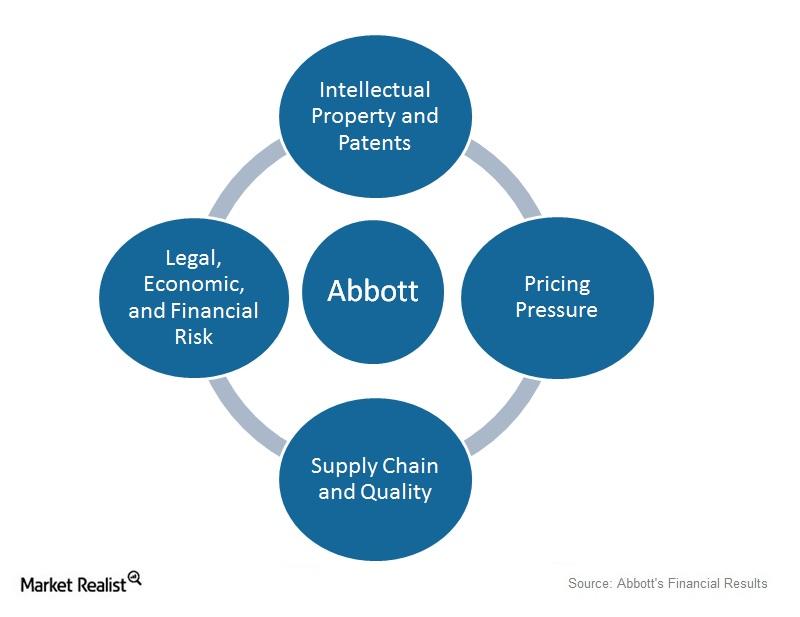 Why Abbott's Business Is Susceptible to Numerous Risks
Risks
Abbott Laboratories (ABT) faces the following risks in addition to industry-specific risks in the pharmaceutical industry.
Article continues below advertisement
Intellectual property or patents
Abbott deals with innovative devices and established pharmaceutical products. Any infringement of intellectual property rights may lead to huge losses. Abbott also has a risk of possibilities where it might not succeed in developing or acquiring commercially successful products sufficient in value to replace revenue loss from the products losing intellectual property protection.
Pricing pressures
Many countries control the price of healthcare products directly or indirectly. There's a pricing cap, coverage limitation, or compulsory licensing. Certain regulators also have pricing control over medical devices. Abbott deals with medical devices like stents. It typically faces pricing pressures related to its Xience family of DES (drug-eluting stents) and other coronary products.
Article continues below advertisement
Supply chain and the quality of products
The product supply and related patient access can be negatively impacted by:
disruption in supply chain continuity
product seizures, recalls, or forced closings of manufacturing plants
failure to comply with cGMP (current Good Manufacturing Practice) requirements in commercial manufacturing through the distribution chain, the company, or its contractors or suppliers
inadequate controls and governance of quality and other factors that could delay in launching new products, shortages in supply of current products, and potential damage to the brand reputation
All of these attract regulatory, legal, and financial consequences that could materially and adversely affect Abbott's reputation and financial performance.
Legal, economic, and financial risks
Abbott operates worldwide. It's subjected to regulatory, political, socioeconomic, and financial factors in individual countries and globally. The company faces the adverse impact of a sustained economic downturn. Fluctuations in foreign exchange rates and limited third-party insurance coverage are also added financial risks.
Other pharma companies like Merck & Co. (MRK), Pfizer (PFE), and Sanofi (SNY) generally face similar risks. The Health Care Select Sector SPDR ETF (XLV) is focused on large pharmaceuticals and healthcare companies.