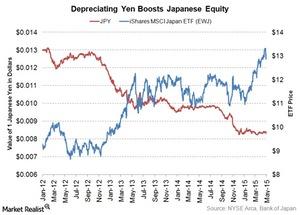 Structural Reforms Could Reshape Japan's Political Economy
By Surbhi Jain

Nov. 20 2020, Updated 2:20 p.m. ET
Shinzo Abe is currently focused on shooting the "third arrow" of his plan
Japanese Prime Minister Shinzo Abe is currently focused on shooting the "third arrow" of his Abenomics (see Part 1 of this series), which entails introducing certain structural reforms to the economy in order to benefit certain sectors.
In this series, we already discussed the labor market and power sector reforms currently being undertaken in Japan (EWJ)(DXJ). Let's now discuss the agriculture sector reforms, which could have a big political—if not economic—impact on Japan.
Article continues below advertisement
3. Agricultural sector reforms
Japan's agriculture industry has long been protected from outside competition. However, this protectionist policy has only prevented farmers in Japan from making economies of scale gains and using the latest technology and equipment to boost agricultural production. It short, the reform seeks to promote greater consolidation and enhance productivity. This bill already got approval from the lower house of the Japanese Diet on June 1. It now awaits approval from the upper house this month.
It may be important to note here that Japan's agriculture accounts for a mere 1% of its gross domestic product. However, given the outsized influence of Japanese farmers over the country's politics and their importance in terms of Japan's electoral demographic (with the average farmer above the age of 60), agricultural sector bills also play an important role in reforming Japan.
Japan's stock market may have surged, lifting the stocks of companies like Sony (SNE), Mitsubishi UFJ Financial Group (MTU), and Honda Motor (HMC). But are the economics backing the surge strong enough? The depreciating yen has boosted Japanese equity (see the chart above), but is this surge sustainable? See Can Japan's Stock Market Sustain Such Growth? for our analysis on the topic.
For our updated analysis on investing in the land of the rising run, visit our " href="https:\/\/marketrealist\.com\/t/ewj/" target="_blank">iShares MSCI Japan Index (EWJ) quote page.