How Starbucks Is Leveraging Its Star Rewards Program
According to Starbucks (SBUX) management, the company's My Starbucks Reward program helps increase customer loyalty.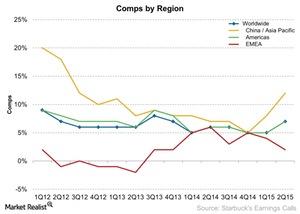 Spotify partnership: Leveraging Starbucks stars
According to Starbucks (SBUX) management, the company's My Starbucks Reward program helps increase customer loyalty. There are about 10 million My Starbucks Reward members currently. Importantly, they can use the "stars" they collect for their Starbucks purchases as a currency that Starbucks can leverage to create additional revenue streams. This is exactly what Starbucks has done with its Spotify[1. A digital music service] partnership. Spotify has purchased reward stars from Starbucks that it will in turn reward to new customers when they sign up to use Spotify. According to Starbucks, Spotify has 60 million customers globally.
Starbucks plans to announce more such partnerships over the next 12 to 18 months. We'll see how this strategy has performed in the upcoming 3Q15 earnings call of July 23, 2015.
Article continues below advertisement
Article continues below advertisement
Higher same-store sales growth expectations
Over the past 17 quarters, Starbucks' same-store sales growth has averaged around 5%. With the above initiatives, 3Q15 same-store sales growth may come in higher. In 2Q15, the company's same-store sales grew 7%, which was 1% higher year-over-year. Analysts are expecting same-store sales growth of 6.1% for 3Q15. Growth was 6% in the corresponding quarter in 2014. But the company's performance in China dampens these expectations.
Starbucks in China
China is the biggest market for Starbucks outside the United States and the leading market in the CAP (China, Asia-Pacific) segment. CAP comps growth jumped to 8% in 1Q15 and to 12% in 2Q15. During the company's last earnings call, management stated that comps growth in the CAP region was driven by higher traffic.
The Chinese stock market recently declined by about 28%. According to HSBC's chief economist for China, households invest about 15% of their wealth in financial assets and equity accounts. Compare this figure to about 35% of the net worth of an American in stocks and bonds, according to the Wall Street Journal.
While the effects of this decline may not have a severe impact on Starbucks comps, it certainly dampens same-store sales growth expectations for the region.
Revenue guidance
As we stated above, the Spotify partnership should create an additional revenue stream for Starbucks. Starbucks management expects an annual growth rate of 10% and an earnings per share growth rate of 15% to 20% over the next five years. Compare this expectation to a past-five-year revenue growth of 12% and earnings per share growth of 22%. Over the past five years, the company has offered about a 330% return on investment.
If you're considering a broader portfolio of restaurants, you may look into the Consumer Discretionary Select Sector SPDR (XLY). XLY's portfolio includes 4% of McDonald's (MCD), 1.5% of Yum! Brands (YUM), and 0.3% of Darden (DRI).
In the next part of this series, we'll see what affects Starbucks' valuation and whether there were any recent changes to estimates.