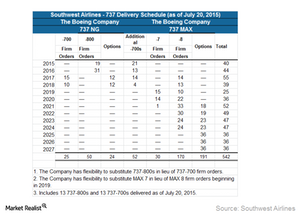 Southwest's Low Cost Strategy Helps Maintain a Competitive Edge
By Ally Schmidt

Updated
Beneficial business model
Southwest is known to be the pioneer of low cost travel in the industry. The company is the largest low cost domestic airline and has the second largest market share by revenue passenger miles. Its 42-year record of profitable operations is enough to prove the success of the company's business model.
The company uses a point-to-point model as compared to the hub and spoke model of legacy carriers like American (AAL) and United (UAL). This helps the company gain greater traffic on most of its domestic routes, as it can offer lower average flight time.
Article continues below advertisement
Shorter routes and travel times mean that Southwest can use high density seating arrangements with fewer galleries and toilets on the plane. This helps in better utilization of flights and lower per seat costs. The company has been adding Boeing 737-800s to its fleet, which have a seating capacity of 175 passengers.
Other cost-cutting strategies
The company has been modernizing its fleet and uses a younger and more fuel-efficient fleet of airplanes, which helps it save on maintenance costs. Southwest has the largest Boeing (BA) fleet in the world, and this large concentration is able to reduce its training and maintenance costs. For 2Q15, the company has added ten new aircraft and plans to maintain its fleet at 700 units for the rest of the year.
Also by operating from smaller airports, the company is able to better utilize its aircraft, as it faces lower ground times and delays due to less congestion in smaller airports. This also helps the company reduce its costs.
Lower fares lead to higher demand
The company's various cost reductions help the company pass on the benefits to the end consumer in the form of lower fares. The lower fares help the company gather higher demand for its tickets. The high demand also helps the company save money by selling directly on its website, and thus reducing marketing expenses.
Investors can gain exposure to airlines through the iShares Transportation Average ETF (IYT), which has 16.85% of its holdings in airline stocks.