Procter & Gamble: Strategies to Improve Long-Term Profitability
Procter & Gamble continues to look at large developing markets where it thinks it can win enough market share to take a leadership position.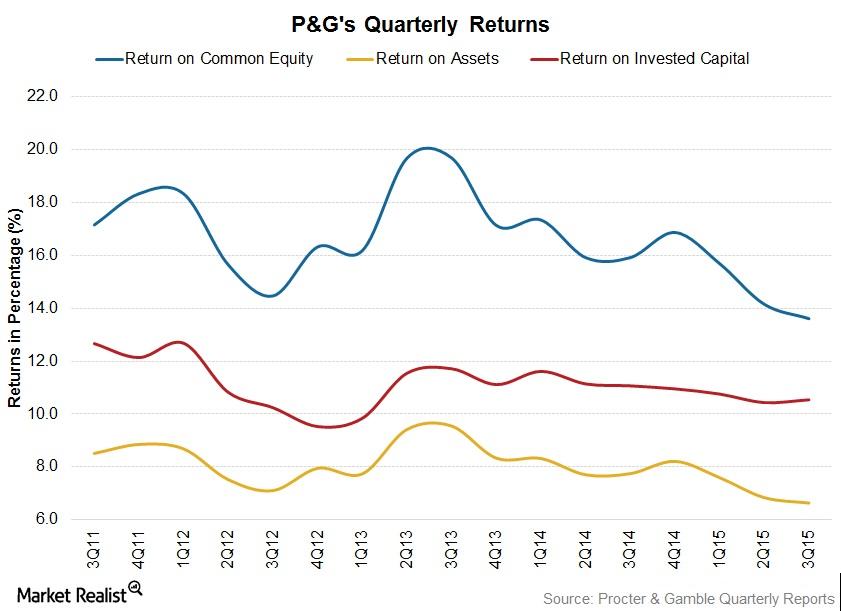 Preserving value
The Procter & Gamble Company, or P&G (PG), is a multinational consumer staples company. It operates in various segments around the world. The company's global value share of the consumer staples market stood at 21% as of 3Q15.[1. Quarter ending March 31, 2015]
P&G focuses on strategies that are right for the long-term health of the company. This is in line with its objective to deliver total shareholder returns in the top one-third of its peer group.
The above graph shows P&G's quarterly return on equity, return on assets, and return on invested capital.
Article continues below advertisement
Article continues below advertisement
Strategic focus
After a four-year hiatus, A.G. Lafley returned as CEO of the company in May 2013. Significant restructuring at the company ensued. Apart from improving productivity, operations, and execution, P&G's focus shifted toward strengthening its core segments, including Baby Care and Fabric Care. It also began to concentrate more on its core markets, including the US, to grow these businesses.
P&G wants to compete in core categories with top brands. Whatever's left over, the company will consider either divesting, discontinuing, or finding alternatives to deal with, such as partnerships. By concentrating on its core portfolio, management hopes to strengthen the company's market position and deliver stronger returns.
For more on the restructuring at P&G following A.G. Lafley's comeback, read Part 11 of this series. For more on the company's divestiture plans, read Part 18.
P&G continues to look at large developing markets where it thinks it can win enough market share to take a leadership position. It plans to accomplish this with volume plays—that is, winning market share with lower prices and higher volumes. However, adverse currency movements may not favor lowering prices in most overseas markets, at least not in the short term.
P&G maintains its lead
Focusing on structurally attractive brands like Tide, Pampers, Olay, and Gillette enables P&G to maintain its leading position in front of peers Unilever (UL), Estee Lauder (EL), and Kimberly-Clark (KMB). In a rapidly changing environment, P&G will continue to use effective sales, advertising, and marketing programs with celebrity endorsements to promote brands such as Tide.
The SPDR Dow Jones Industrial Average ETF Trust (DIA) and the iShares S&P 100 ETF (OEF) respectively assign 2.9% and 1.8%[2. All ETF portfolio weights are as of June 27, 2015] of their portfolio holdings to P&G.