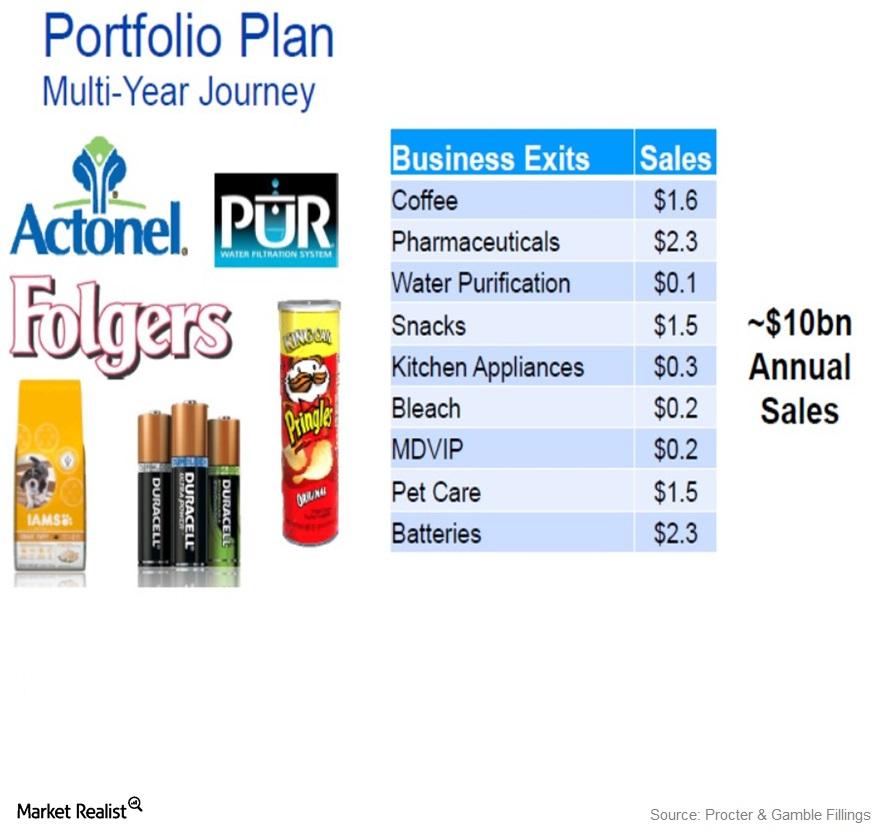 Procter & Gamble and Its Profitable Divestitures
Overview of initial divestitures
The Procter & Gamble Company, or P&G (PG), is one of the largest FMCG (fast-moving consumer goods) companies in the world. P&G has divested many brands recently:
Crisco vegetable oil and shortening, Folgers coffee, Jif peanut butter, and Millstone coffee were sold to the J.M Smucker Company (SJM) for ~$3.3 billion.
Pringles potato chips was sold to Kellogg (K) for $2.7 billion.
Camay and Zest were sold to Unilever (UL) for an undisclosed sum.
P&G exited the pet food business, selling most of Iams, Eukanuba, and Natura brands to candy bar and Pedigree-maker Mars for $2.9 billion.
P&G also disposed of its billion dollar brand Duracell Batteries to Berkshire Hathaway (BRK-B) for $4.7 billion. The transaction will close in the second half of 2015.
P&G reported $0.15 billion in divestiture gains in fiscal 2014 and $0.63 billion in 2013. Since A.G. Lafley's return as CEO, the company has been focusing more on lucrative businesses and disposing of the slow-growing ones.
Article continues below advertisement
To revive sales, competitors Unilever (UL) and Nestle (NSRGY) have adopted similar tactics—focusing on core strengths and disposing of slow-growing businesses. For example, UL sold off Ragu pasta sauce, Bertolli pasta, and Wish-Bone salad dressing. Nestlé sold off Jenny Craig foods and Juicy Juice beverages.
According to a Trefis report, Colgate-Palmolive (CL) is also planning to divest from its laundry segment brands. Cold Power, Dynamo, and Fab detergents are expected to be sold to Henkel (HENKY) for $0.24 billion.
P&G, along with peers Kimberly-Clark (KMB) and Clorox (CLX), make up ~2.6%[1. Updated as on June 27, 2015] of the SPDR S&P Dividend ETF (SDY).
Recent divestment plans
P&G is planning to sell its beauty brands Wella and Clairol and is also looking for bids for its fragrance and cosmetics businesses. According to a Bloomberg report, the combined value of this business could be ~$19 billion, possibly P&G's largest divestment yet.
Henkel, Revlon, and Coty (COTY) were said to be potential buyers of some of P&G's beauty brands. Yet COTY appears to be the winning bidder, according to a June 15 report in the New York Post. The sale will allow P&G to cut the significant drag of organic sales in the Beauty segment. For more on this, read