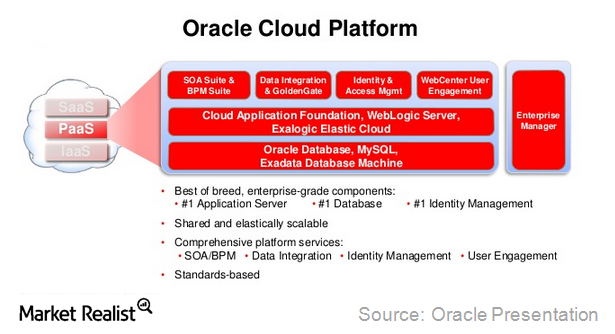 Oracle Unveils a Range of Cloud Offerings
Oracle launched 24 new cloud offerings
On June, 23, 2015, Oracle (ORCL) unveiled 24 new cloud-computing offerings that span computing, storage, and data management services. These cloud products offer online storage and enable users to run applications entirely in the cloud. The newly launched cloud offerings are a step forward in Oracle's strategy to shift its database and CRM (customer relationship management) business to the cloud. By adding these 24 new cloud offerings, Oracle Cloud Platform aims to offer a comprehensive line of enterprise software services, infrastructure, and platform services.
On June 23, Larry Ellison, Oracle's CEO, implied in a webcast presentation that Oracle Cloud Platform is competing with Amazon (AMZN). He stated that "The new archive storage service goes head-to-head with Amazon Glacier and it's one-tenth their price."
Article continues below advertisement
In order to compete with AWS (Amazon Web Services), Oracle complemented it cloud platform with 24 new cloud offerings, as we discussed above.
In its fiscal 4Q15 earnings release, Oracle stated that it earned $2.3 billion in cloud revenue. According to a Business Insider article, Amazon and Microsoft (MSFT) earned ~$6 billion and $6.3 billion, respectively, in cloud revenue. The revenue was recorded in fiscal 1Q15 and 3Q15, respectively.
Why Oracle Cloud Platform was launched
In September 2014, during Oracle's annual customer conference held in San Francisco, the company launched Oracle Cloud Platform. Oracle Cloud Platform includes its Database, Java, and Oracle Fusion Middleware. It features built-in multi tenant, in-memory analytics, mobile, and social capabilities. This platform provides a reliable way for customers and ISVs (independent source vendors) to migrate to the cloud while satisfying various SMAC (social, mobile, analytics, and cloud) requirements. With a multi-tenancy structure, all or most customers run on the same application. All of the data that's stored in-memory or RAM (random-access memory) is referred to as "in-memory."
Oracle Cloud Platform allows Oracle's partners and customers to extend SaaS (software-as-service) applications and migration of existing on-premise applications to the cloud. It provides a broad portfolio of public cloud services across SaaS, PaaS (platform-as-a-service), DaaS (data-as-a-service), and IaaS (infrastructure-as-a-service). It also provides a vast portfolio of integrated services that span data, applications, platform, and infrastructure areas. According to IT Candor, Salesforce (CRM) dominates the PaaS and SaaS space.
Oracle claimed that Oracle Cloud Platform supports more than 70 million users with more than 33 billion transactions each day. Approximately 54,000 devices run Oracle Cloud Platform. It provides more than 700 petabytes of storage in 19 data centers around the world.
If you're bullish about Oracle, you can invest in the PowerShares QQQ Trust (QQQ). QQQ invest about 3.08% of its holdings in Oracle.